10 minutes with Ellie
26 May 2021

Brightec Team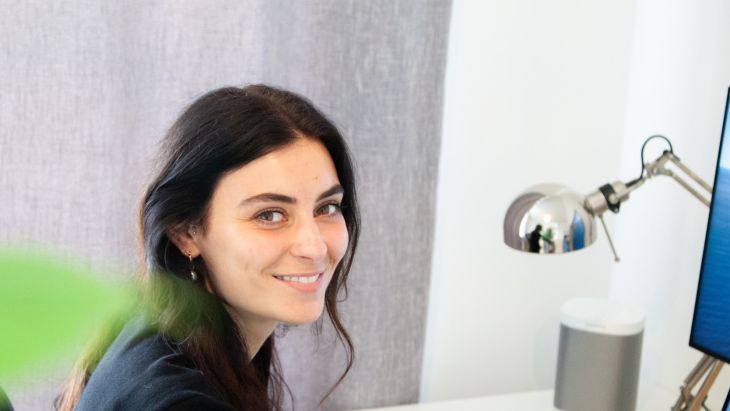 From career changes to family pets, when our QA Engineer finds something that interests her, she goes all in
Having grown up in Brighton, Ellie loves to be by the sea; walking, barbecuing or just listening to the waves. It's her enjoyment of walking that secured her recent decision to get a dog; a companion who would never get bored of joining her for long rambles. With four month old Fig the puppy hot on her heels, the Three Peaks challenge is high on Ellie's list of aspirations.
Joining a remote team would be a struggle for anyone, but empathetic Ellie has subtly embedded herself within the Brightec team. Unafraid to ask questions and proactively keen to develop her understanding, Ellie is a highly observant code reviewer and able to concisely request changes. You could say she's our Queen Bee...
Whilst many spent their university years in the library (and never the SU), Ellie dedicated her energy to the SOAS University of London's beekeeping society. As a founding member, she created a garden for these lucky bees, learning and teaching others how to care for these creatures. Now living back in Brighton with Fig, and her cat Elmo, we're not sure if they'd feel a bit stung at the idea of sharing her affections.

She's no X-boxer
Ellie's love of technology stems from a childhood spent with her Playstation. She's dabbled in various jobs; from content writing to cleaning but it was working at an events company that she found her calling to enter into the coding sphere. Having listened to tales of how a colleague's friend was a self-taught Developer and remembering how much she liked ICT at school, Ellie felt inspired to research.
Knowing it would be hard to have a full-time job and learn to code, in her 'all or nothing' approach to new projects, she quit her job and enrolled in a course to immerse herself in this new skill. Now fully qualified, Ellie loves the process of ensuring quality code is written for apps and websites. In the throes of puppy training, Ellie's favourite thing about her work is seeking out subtle differences and catching those all-important bugs.
But it isn't just apps that our adventurous engineer enjoys bringing to life. This passionate freedom seeker recently drove to Cornwall and back in a day to secure herself a new VW campervan shaped project.

She'll give you a 'pizza' her mind
Ellie likes to keep things simplistic and has strict rules regarding pizza restaurants; claiming you should always have the Margarita pizza on a first visit. This then determines whether the restaurant deserves a return visit and a more adventurous menu choice. Although, she insists there is absolutely no circumstance under which a pizza should come into contact with pineapple. Ellie's favourite holiday was a no-expenses-spared trip to Naples and Positano so we suppose she learnt her tastes from the best.

To bee, or not to bee
With a degree in Politics and Development Studies, we were expecting big things when we asked Ellie our big question; What app would you build if you had unlimited time and budget.
'A puppy scheduling app that reminds you when you need to feed or play with your puppy'.
We think that's called a Tamagotchi.
Click here to read more about Ellie and her work at Brightec.