How does it feel to start a new job remotely?
22 Apr 2021
Ellie Jones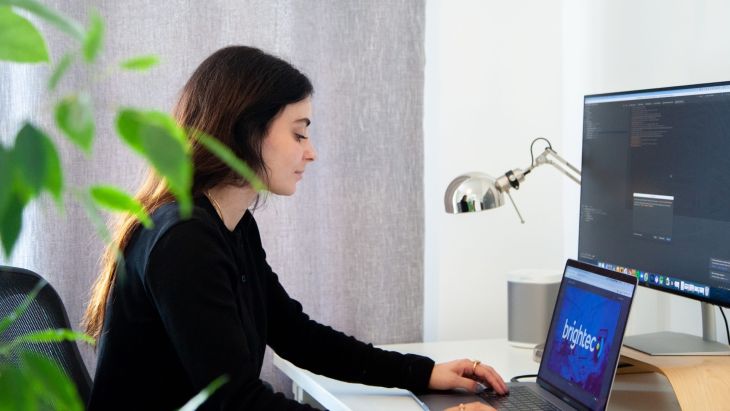 Ellie shares her experience of joining a team that is predominantly remote (for the moment at least)
Starting a new job remotely had never been on my radar. For some reason, I felt like it was a niche reserved for freelancers. Yet, having completed a Software Developer course part way through 2020, I found myself looking for a job... in the middle of a pandemic when all offices were closed down and you could only leave your house once a day…
Prior to my first day, when I had a 1:1 induction in the Brightec Micro Office, I had never met anyone from the company face-to-face. My interview took place via video call and from then on daily stand-ups, client calls, meetings and catch-ups have all been communicated in this way. It may seem far from what some are used to but it's easy to adapt to remote working... as long as you have a good internet connection!
Challenges
Although I haven't found many challenges, there are inevitably some that crop up.
In an office, it's easy to head over to someone's desk and ask them a quick question (and when you start any new job, there are always plenty of questions to ask!). Working remotely, there isn't the option to do this and I found myself sometimes waiting for a response from someone. This can be challenging, especially when there's something urgent you need to do. It can also feel nerve-wracking as you don't have a working relationship with that person yet or a piece of previous knowledge of their communication habits or work patterns.
Let's be clear, this isn't anyone's fault. When you're not all together in an office you can't automatically see if someone is in a meeting, headed out for an early lunch, or is deep into a workflow and not wanting to break it, or maybe (rarely) just missed the message coming through. The only way I can think to combat this is for Slack (the platform Brightec uses for workplace messaging) to have a feature where you can 'disturb' someone and bypass any settings they have which turn off messaging alerts. Maybe that's an idea for one of our R&D days…
Benefits
There are many benefits for remote working, from a very short commute to having a no-distraction space to work... if you don't have a cat jumping on your keyboard whilst you're on a call! That said, there is a good cause for remote working.
Whilst some may have noted a divide in how communication flows between a remote team, as a newcomer, I noticed another benefit. Video calls from each other's homes give you a glimpse into the life of the person behind the emails. There are lots of conversation starters from video calls; whether that's intrigue about the photo on someone's wall, the dog barking in the distance, a child wanting attention, the ice cream truck singing or the sounds of seagulls. These all prompt you to ask further questions you might otherwise not have asked in an office setting and help create a bond with new colleagues, as well as clients.
What can an employer do to help?
All in all, remote working is a great option and going forward, one that more companies will start to offer. But there are ways you can ease the transition for someone joining your team.
If you're thinking about how you can help somebody start remotely, the best thing to do is reach out and ask them if there's anything you can do to help them get to know the team and the work you do. Whether via a video call, an email or instant message, there are plenty of ways to check in on someone and I'm sure they would appreciate the olive branch.
All credit to Brightec who have made my first six months, especially welcoming. The Friday socials are a great end to the week to unwind and socialise with the team. We also use HappyTrack which has helped start conversations if I've felt at a loose end.
If you'd like to know more about starting a career in mobile app development, Dave shared his experience in this blog.