How Can Your Retail App Create A Great Shopping Experience For Your Customers?
17 Jun 2020
Josh O'Riordan
A great-looking, seamless retail app design that focuses on delivering an exceptional shopping experience is the holy grail for successful online retail business.
With so many retailers now offering user-friendly, responsive mobile site experiences, choosing to download a retail app requires an additional commitment on the part of the user.
Not only is downloading and creating an account within an ecommerce app an additional step in the customer acquisition process – but there are other barriers your customers might come up against. For example, an app takes up valuable storage space on a person's smartphone, they might see it as yet another set of login details to remember, or not see the point in downloading an app when they could just order from your website. They could also have privacy concerns around capturing and storing billing details and personal information.
In short, in order to give your customers a reason to download your app, you need to deliver an exceptional shopping experience when it comes to signing up, browsing, and personalisation that delivers on enjoyment and builds trust.
A well-designed customer experience within your app will not only give people a reason to download, it will also help with customer retention and loyalty.
The in-app shopping experience
Just as brick and mortar retail stores make sure that their space is comfortable, stylish, clean, well-lit and intuitive to walk around, retail app design must be properly thought through too.
Elements to consider in creating a great shopping experience are organising your products in categories which reflect the most popular user searches – such as colours, styles, sizes and fit if you're a clothing retailer. You may also want to highlight your most popular and best-selling products as it's likely that customers are coming to you looking for these. In short, make their shopping experience easy and intuitive.
Having a functional search bar at the top of your app is also an extremely helpful feature for customers, streamlining the browsing process for them so they can find what they already know they want easily and quickly.
The H&M app does a great job of enhancing the shopping experience by providing reviews, 'Style with' suggestions, and 'Others also bought' options alongside each product, with a convenient size selection opportunity before you add to bag.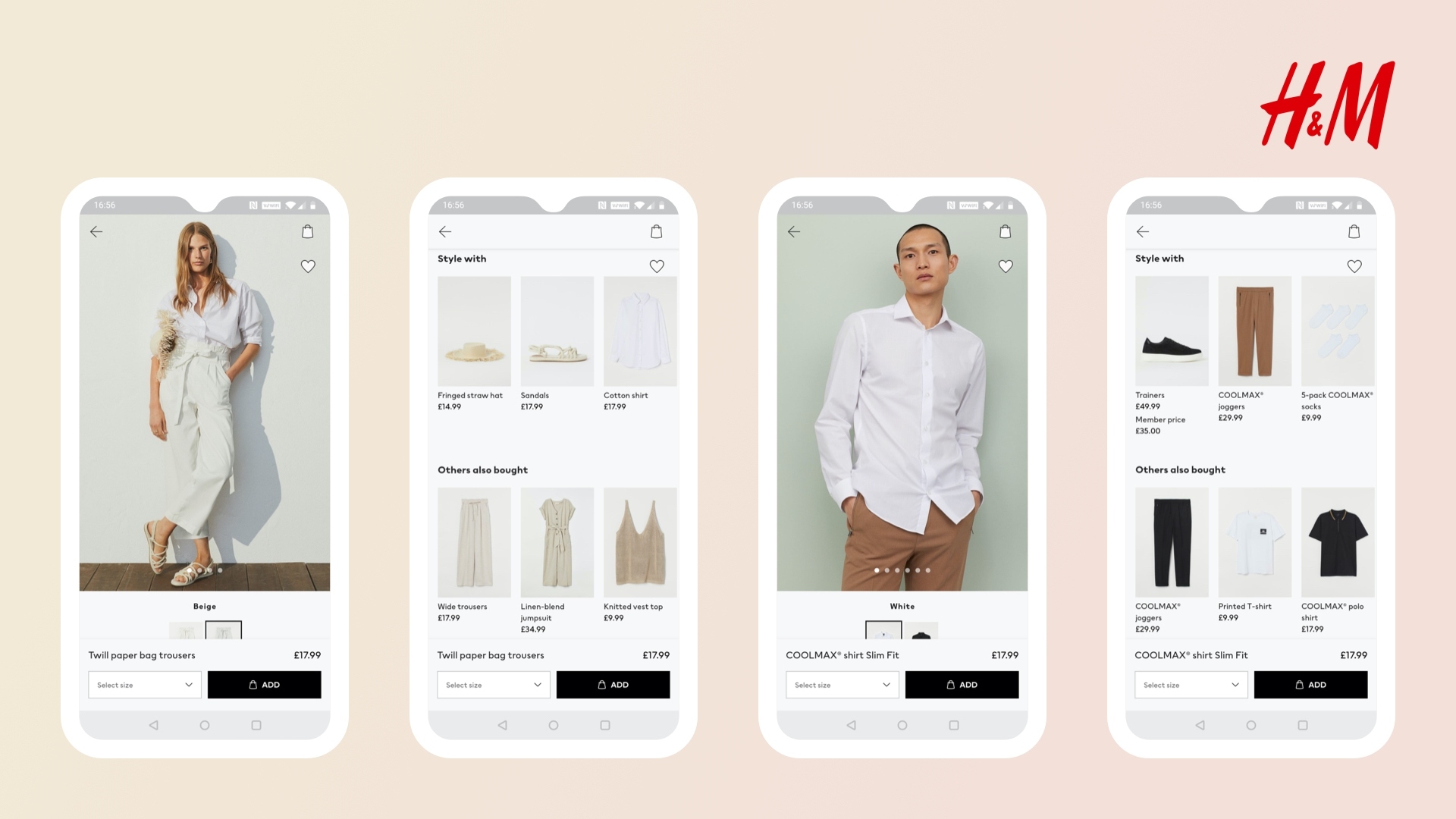 Signing up and creating an account
If your app requires your customers to create an account, it's important to make sure they're clear about why they're signing up. Be bold about your proposition and highlight upfront opportunities such as collecting loyalty stamps, or getting money off purchases.
If you want to capture additional information above a name, email address, and password, explain the relevance and importance of each step as you go. The sign-up stage is a great opportunity to get to know your customers better – finding out more about their preferences so that you can tailor their experience. For example, if you're a book retailer, you might want to prompt customers to select genres of fiction they enjoy so that your app can start making personalised recommendations.
There's also the option of offering sign up integration with platforms such as Facebook or Google, and now Apple. This enables customers to create an account using information already stored in these apps with just one or two clicks. This is an increasingly popular option, creating speed and convenience at a crucial stage of the customer journey.
When thinking about your sign up process, consider which information is essential. In order to remove barriers to account creation and get your customers shopping sooner, you may choose to only collect crucial information first and then prompt customers to complete their account and personalise their experience later down the line.
Adding to basket
Most retail apps will have a basket icon which alerts customers to how many items they have added to their basket while browsing. Often, this simply displays the number of items a customer has added, but it may also be a good idea to display the sub-total value of goods (with the sub-total including any promotions or discounts which have been applied).
This is helpful for customers who may be on a budget, as they may want to keep an eye on this and edit their basket while they shop.
Saved items and wish-lists
Allowing your customers to create a wish list or save items for later within your retail app is a popular functionality that provides a great user experience. This gives shoppers the chance to save items to come back to later if they aren't sure about them, want to purchase after payday, or want to share with friends and family ahead of birthdays or other special occasions.
Many customers use saved items and wish-lists as bookmark features, allowing them time to go away and think about higher-priced items before committing to buy.
Allowing customers to save items can also help you personalise their app experience, as you can collect data about the kinds of items that they're interested in. Data can then be used to inform personalised promotions, alert potential buyers to drops in price or when stock is low, as well as suggesting more of the right items to personalise their shopping experience in future.
What's more, by enabling people to save items during the browsing process, you also help to keep your checkout stage simple further down the line.
The in-app shopping experience
When it comes to your retail app design, the more intuitive the shopping experience is for your customers, the better. From fast and simple account creation to a basket that's easy to manage, paying attention to the details means you'll keep your customers happy while gathering the right data to continually enhance the shopping experience.
---


Creating A Retail App?
We can take you through every stage of the app development process and leave you with a finished product that functions beautifully for both you and your customers.

Find out more about our app design services here.