App downloads: Apple versus Google
3 Dec 2013
Andy Ferrett
We wanted to find out which platform has the most number of app download?
Boom time
With the advent of smart phones, mobile apps are on a boom. Every corner of the world has mobile users downloading apps. This naturally raises the question: which platform has the most number of app downloads?
Stiff competition
On analyzing which mobile platform has the maximum number of app downloads per user, we find that there is a stiff competition between Apple and Android users, while Windows is slowly on the rise. As per a recent survey by the App Annie Market Index Google Play surpasses iOS AppStore in app downloads by 10% in Q2 2013.
However, when it comes to revenue generation, the AppStore is firmly in the lead generating $5.1 million revenue from the top 200 apps, while Google Play earns around $1.1 million.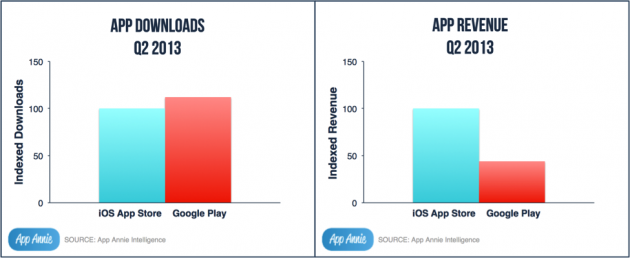 UK outlook
In UK, the top operating systems are Google's Android followed by Apple's iOS. Google's mobile operating system accounts for 56.3% of the smartphone platform market, followed by iOS which has a 27.5% share. Though the market share of Microsoft's Windows Phone has reached double digits in UK, the Kantar world panel's ranking places it 3rd; after Android and iOS.
The table below from Xyologic indicates the UK's position in Europe and suggests that overall UK users download 40% more Android apps than iOS.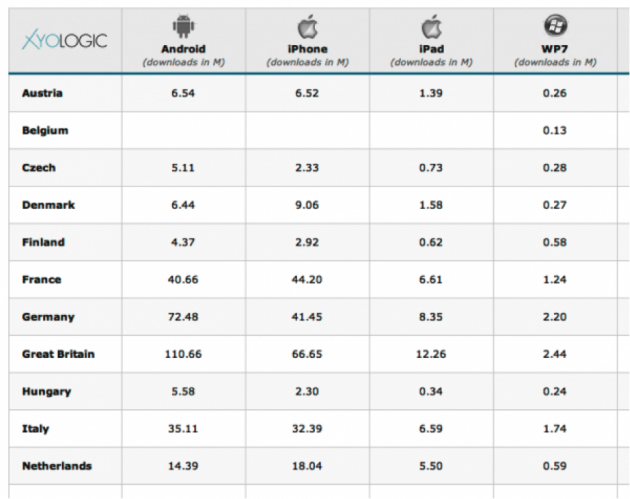 You can see that the UK ranks first in Europe for the total number of app downloads and shows that overall Android has the largest market share of app downloads.
In conclusion, overall Google Android is ahead of both iOS and Windows in the number of apps that are downloaded from their stores, however iOS app generate a far greater income than the competition.