Creating a productive and collaborative office space
1 Aug 2016
Andy Ferrett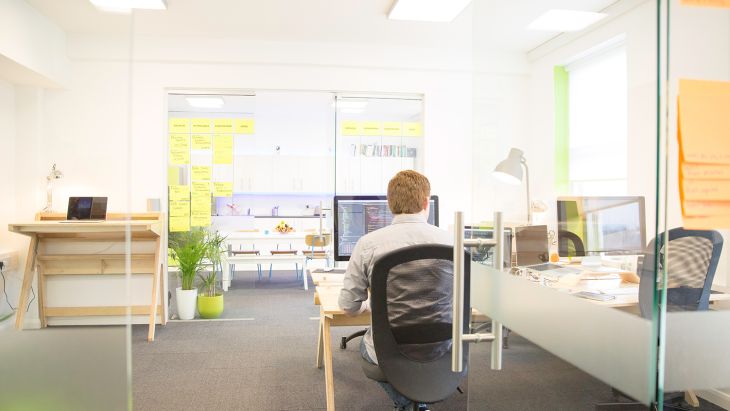 How to create both a productive and collaborative office space to help your business thrive
A radical adjustment of office space helped realign our business philosophy
Almost a year ago we moved into our current offices.
We only moved 100 yards down the street, from one high rise building to another. But in that change, we radically adjusted the way we designed the space.
For us, the business philosophy of continuous improvement applies to every area of our organisation - from process to code and from meetings to our office space.
Six years, five different offices
In the six years since we formed Brightec, we have had five different offices. Our growth has forced us to move space, each time learning more about what works and doesn't work.
You see, productivity is the name of the game for us. We're a services company, billing our time to clients. Company income is generated by delivering projects on time and on budget, so making a space that assists this is of primary importance.
Cabin fever
Our first office was a cabin at the bottom of my garden. It wasn't flash, it wasn't large but it was warm (just) and we could squeeze three of us into it.
We bought Ikea desks and chairs and worked late into the night in the early months to get products out to our first clients.
The furnace
From the shed, we moved to the famous (in Brighton at least) New England House; the home of many small businesses & startups. We initially rented space from good friends of ours (Fruitmedia) and then moved into our own office on the 4th floor.
We enjoyed fetching views onto the back of a set of flats and in the summer, our south facing position turned the office into a furnace.
It was a step up from the cabin, but it wasn't the greatest spot. There was no meeting space, no lunch area and only one whiteboard. Still, it was ours and somehow we shoe-horned six of us in.
Out of the corridor
After a year or so, we moved into what had been the WiredSussex offices. We took the opportunity to focus our thinking and decide what we needed from the space.
We knew we wanted a meeting area for clients and a room for private staff chats (as the corridor no longer felt appropriate for a growing company).
The office was open-plan and as most companies similar to ours seem to encourage this, we assumed open was the way to go. We decorated the office tastefully and on-brand, but didn't add too many 'frills'.
It was mostly about how we could squeeze as many people in, whilst giving them as much space as possible to work.
Our present abode
In July 2015, we finally outgrew New England House (we'd encourage any new start-up to try and get in there, it's a great building). And moved to our current space in the Vantage Point, New England Road, Brighton.
Align every decision against your values and strategy
As we've already outlined, the principle of continuous improvement applies right across our business.
It requires that we review the old and look to the future, making sure we align any decision against our values and strategies.
So, when considering our new office space we wanted to consider the following values:
Productive
Productivity is one of the main (but not sole) drivers of what we do. We want to provide an environment where people can get on with their work without distraction, without encountering roadblocks and with the freedom to take responsibility (see our article responsible teams).
Aesthetic
It is important for staff and clients that our offices have a great aesthetic. Staff should enjoy coming to work. They should take pride in the space and be excited to show people where they spend 40 hours per week.
As we're about collaboration, clients should similarly enjoy visiting us. They should like being part of what is happening here and understand our values by seeing what we say outworked in the environment we have created.
Branded
The office should match our brand. This should not only be how it looks but also the 'feel' of it. It should have colours that match our brand but it should also reflect the fact that we are collaborative, open, friendly, relational and enjoyable to work with.
Of course, a clear representation of our brand should avoid us giving off the wrong message e.g. unapproachable and expensive.
What we did
Pod life
The single most important change we made when moving, was to break up the new office into five, 5x5m "pods", each separated by glass walls and doors.
This was intentional. Given our open and friendly approach, you'd think open-plan was the way to go, but we've found it can become quite unproductive.
We encourage meetings, stand-ups and pair-programming and in an open environment, it was too distracting. This meant two things:
We were less collaborative
Developers productivity particularly suffered from distractions
The new space allows for a feeling of openness. You can see through the length of the office and we can open the doors to allow communication through the space as required.
When there are meetings, stand-ups or the music is too loud, the glass doors can be closed and quiet, distraction free "pods" can continue. Having separate spaces also means that teams can be colocated, improving communication and collaboration.
Say no to clutter
Given that most of our staff are either developers, managers or administrators, it is advisable that they approach their work methodically in an ordered and uncluttered manner. Therefore, it makes sense that the office space reflects this.
We are virtually paper-free (apart from the inevitable post-it notes), we try to encourage people to keep & leave their desks free and everyone takes responsibility to keep the office ordered and tidy. Helpfully this style of office appeals to my OCD nature!
Meeting space
Reflecting our collaboration value, we have a large number of meeting areas. These include:
A third of each pod free from furniture for stand-ups and adhoc chats
One 5x5m "pod" utilised as a kitchen/staff meeting room (including a large dining table)
Another 5x5m "pod" for a more traditional meeting space (including sofas, projector and small meeting table).
Each meeting area (including the kitchen) is equipped with a whiteboard (and a sound system).
Fancy but functional
We want to create an environment that is extremely functional, has a high aesthetic value, whilst not costing the earth.
We want the office to say 'we value how things work and look, but we don't spend money frivolously'. So our office is mainly made up of a mixture of Ikea and OpenDesk furniture.
Ultimately, we'll be replacing the Ikea desks with OpenDesk versions but only as the budget becomes available.
Two key elements we have added to each pod are; stand-up desks and beanbags. Both of these help with productivity and collaboration, as well as encouraging a more relaxed (and therefore less stressed) environment.
Basic brand
As discussed brand covers more than just painting a few walls and sticking vinyl on the walls. We seek to ensure that our brand values are aligned with our office in a much wider and deeper sense.
However, when we get the option to add some brand colour to the office or furniture we do take it. In practice, that means that the inside of the window frames/sills are painted in our three brand colours and some of the feature furniture is also in brand colours.
Affordable, collaborative and productive
Having an office that reflects your company values need not be really expensive and having a modern collaborative office need not be open-plan.
The key is to look at your company values and intentionally 'design' your office space around them.
For us; collaboration, productivity, aesthetics and branding are important, but for others these may be different.
Remember that it is all about continuous improvement. Although we've been here almost 12 months, we're still to put a sign on the door… but we'll get there!