The Future of Enterprise Apps
11 May 2016
Matt Simmonds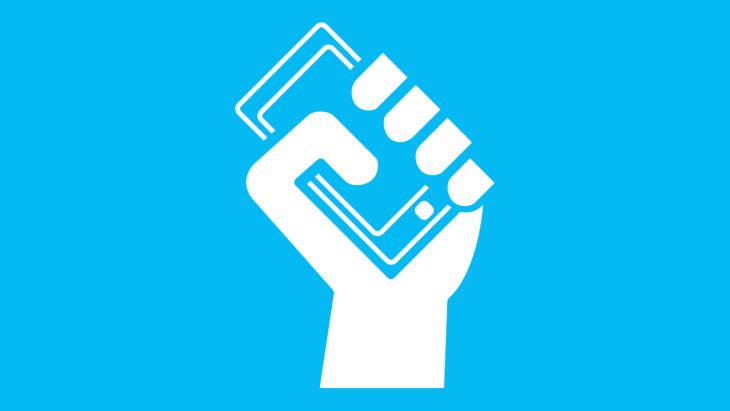 Five factors that will influence the next generation of enterprise apps.
The next phase of evolution in the app industry
The app industry is growing exponentially. Apple recently calculated that their App Store has generated almost $40 billion for developers and created around 2.6 million jobs in the USA and Europe.
Whereas the initial growth in the app market was understandably driven by consumer apps. The next phase of evolution in the industry looks set to revolve around enterprise apps.
In this article, inspired by the recent Raconteur publication (in which you can see a full-page ad for Brightec) The App Economy, we'll explore the changing face of enterprise apps.
In particular, we'll take a look at five key factors that are set to influence the next generation of enterprise apps.
Five factors that will influence the next generation of enterprise apps
1. Soldier & Hero apps
'My business needs an internal app'. That may be your first thought but enterprise apps can serve a range of purposes and meet any number of business goals.
However, according to technology research agency Ovum, the next wave of Enterprise apps look likely to fall into one of two categories: 'Soldier' apps or 'Hero' apps
Hero apps are those that a company may use across the whole business and are in use frequently, such as Slack, WhatsApp, Email clients, etc.
Soldier apps are much more specific. They can be focused on a select group of employees and achieve one or a few business processes. For instance, assisting a warehouse team with a logistical challenge or a sales team out in the field.
Hero apps can be the initial part of a company's mobile strategy, starting business change and setting a culture but Soldier apps have the biggest potential to revolutionise an organisation.
Soon it will be commonplace for individuals or teams within a business to approach their IT dept requesting apps to help support their processes and practice. This will result in 100s of apps (all supporting the same culture and end goals)

2. Speed & Connectivity
Since the launch of the internet, one of the main forces for change has been the relentless increase in speed & connectivity. Tasks that were once unimaginable on a high-powered supercomputer now take place every day on bog-standard smartphones.
With the launch of the 5G network (and 5G enabled devices) due in 3 to 4 years time, this pace of change is set to increase once more.
The growing power & influence of the 'Internet of Things' will also be a big force for change, with all manner of office devices and processes created and controlled by company apps.
3. The Uber affect
Services like Uber and AirBnB have shaken up the commercial world and fundamentally changed how customers relate to services and who offers the services.
In part, their success has been driven by a bold 'mobile first' strategy and their influence will shape the next generation of enterprise apps.
Staff are now so accustomed to these services that the enterprise world can't afford to lag behind. Ross Sleight, chief strategy officer at mobile consultancy Somo; "The millennials think if I can do this with Uber, why can't I do it with my sales data?"
4. Personalisation
UX (user experience) is one of the most important aspects of an effective app strategy and delivery. The next generation of enterprise apps will see UX heavily shaped by personalisation.
To date, personalisation is mainly utilised for web & mobile advertising. Data collected via cookies (web only) and information provided by the user are used to uniquely target adverts and offers.
In the future, personalisation will be put to use in enterprise apps to deliver information, tasks and incentives direct to individual employees. This personalisation will not just be shaped by basic user data but by information collected from the user about their skills, attributes, experience and passions.

5. Wearables
Wearables may not have yet taken off in the consumer market as initially expected, some media outlets reporting on the Apple Watch 'flop' for instance. However, it could be in the corporate & industrial sphere where Wearables will have the biggest influence.
In particular for enterprise apps used 'in action', Wearable devices can come into their own.
We've already developed a prototype app to be used with a Google Glass type wearable device (the Vuzix headset) for a leading pharmaceutical firm. Apps paired with devices such as the Vuzix headset could transform the approach to surgery and medical practice.
Also, the potential implications for sales teams, warehouse staff and HR departments are huge.
What next?
As we've shown in this article, enterprise apps will increasingly shape and transform business practice in the coming years. How should you respond?
We're vastly experienced, having worked with clients such as Roche, Willis Towers Watson, Numerco, B.Braun and Morrisons Supermarkets to develop industry leading enterprise apps.
Whether you're looking for a 'Soldier' or 'Hero' app, or maybe you need some strategic advice on formulating an effective mobile strategy; get in touch with us today.