How CEOs, founders and leaders can take an extended break that benefits you and your company.
23 Oct 2023

Andy Ferrett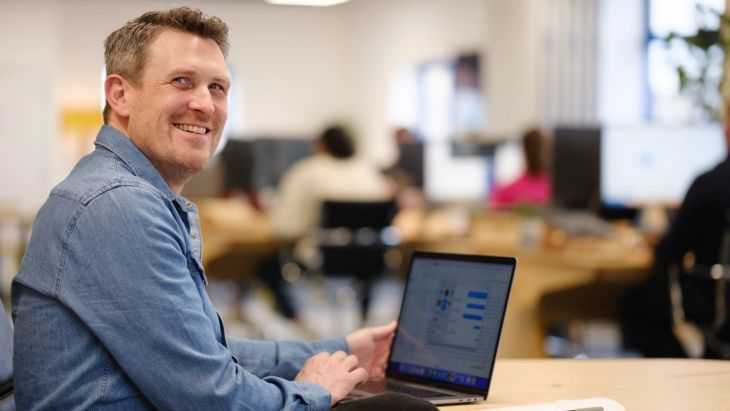 How to take an extended break that benefits you and your company
Some people will be aware that I recently returned from a three-month break. Internally we've often referred to it as a 'sabbatical', but rather than "a period of study or travel", this time off was a break from my duties and responsibilities at Brightec. It was an incredible opportunity to step away from the business I founded 17 years ago and that has taken my daily attention ever since. I have been back at my desk for just over a month now, so it felt like a good moment to pen some thoughts that I hope others considering this type of break would appreciate.
I'm acutely aware that a lot (if not most) people won't have the opportunity for a break such as I'll outline below. I hope that even if this isn't an option for you, you'll find it interesting and helpful as you consider smaller breaks in your career or everyday life.


Background
I started Brightec in 2006, having been freelance for 5 years before that. I have over 20 years of carrying the pressures and strains of running a company. I've experienced the ups and downs of the organisation, feeling personally the weight of every decision and challenge. I've given everything I have to make this a success and I'm grateful and proud of the incredible company that now exists and the team that has been assembled and grown over 17 years.
Like many founders and leaders in this current climate and stage of life (at the time of writing, I'm 46) I had been feeling the effects of a brutal few years; Brexit, Covid, Financial crisis and general tiredness from doing this for a long time. This was despite working at (in my humble opinion) the best company in the world and working with the best team in the world. After some really helpful advice, I started to identify the need for a longer period of rest.
Below I have outlined five principles that we sought to apply to ensure the break was beneficial to me and to the company.


Principle 1: There's never a perfect time to take a break
For lots of family reasons, 2023 was a poor year for me to choose for this break. There were many things going on at home that meant there was no chance of me taking extended time away from the UK or even much time away from home. We had started building works, my kids are both in important years of school and college, and my wife runs her own company. None of these was conducive to a fully restful time off, but it was important to carve out the time and to stick with it. Working with the Brightec team therefore I chose to take a ten-week break (eventually this was extended) starting in June.
Takeaway points:
Don't expect to find the perfect timeslot, it won't exist and looking for it may delay the start.

Plan for a complete break. This will look different for different people but as far as possible create space for a break that is completely away from your company.

Make sure you give yourself and your team enough time to prepare. You need to move responsibilities, create documentation and adjust expectations over a long enough time period that the change can be tested before you break.


Principle 2: Trust your team
Trusting your team to do their job should be a given, it's one of the foundations of a great company and culture. Preparing for an extended break takes this one step further; you now have to trust your team to do your job. Responsibilities that previously would have sat with you will need to be handed over and, in some cases may never be returned to you. It is a necessary and helpful process, to extract yourself and to make yourself less critical to the running of the business. I imagine that for founders such as myself, this is even more important. Founders particularly find themselves holding all the keys, they hold information about the business, clients, and teams that has never needed to be handed over. Taking a break forces this process, creating more resilience in the company, as it becomes less reliant on an individual. An extended break for a founder or senior leader, therefore benefits the individual, but also profoundly benefits both the company and the rest of the team. It creates resilience and allows other members of the team to take increased responsibility and take a step up in authority.
Takeaway points:
Genuinely handover responsibilities, not expecting necessarily to take them back. Provide training, documentation and support during the period leading up to the break.

Leave enough space after handover to test the system and process, so that questions are raised before you leave.

Identify and provide external support if necessary. We have a great Non-Executive Director who I asked to check in with the team regularly. He was available to answer questions and be a sounding board where previously I would have been.

Create triggers. In order to have a complete break create a list of triggers that if one of them is met, the team will get in touch. These could relate to the team, clients, finances, or other aspects of the business that you are concerned about. This process will allow you to completely switch off, knowing they'll be in touch if things go badly wrong.

Completely switch off, yes completely. No email, no phone calls, no meetings, no check-ins, no visiting your office, no work at all.
Principle 3: Don't expect too much of yourself
The first two weeks were tough, to come to a stop after 20 years of working is not an easy thing. I had always been good with people and juggling multiple tasks at once, but suddenly I couldn't do either of these. I felt I had lost my superpowers. All of this was unexpected for me, but since chatting with others, it is a very normal part of the process.
Takeaway points:
Be careful not to plan too much for your break, especially at the start. If you are taking this break because you need it (different from simply wanting one), then you should expect your capacity to be dramatically reduced.

Don't freak out, trust the process. Your superpowers will return, but they might look different to what you expect and it might take longer than you expect.
Principle 4: Take your time
Fairly early on in the break, I realised that it was going to take longer for me to feel the benefits of a break than I had thought. Any initial plans I had for starting my to-do list early were shelved and I forced myself to get comfortable with a much slower pace of day. It took a number of weeks, but I eventually got comfortable with the change and the slower pace. I relaxed and allowed the process of recuperation to continue at its slow and methodical pace. As my return date got closer it became very apparent to me that I wasn't ready as I wanted to make sure I got the full benefits of the break. I agreed with the team an extension that saw me return a few weeks later than we had originally planned.
Takeaway points:
Plan for longer than you think you'll need. If you are genuinely needing an extended break, it will take more time than you think to be ready to return to work.

If you have the choice, don't rush back. Make sure you are emotionally ready to return and looking forward to finishing your break.

Don't worry about extending if you need to. If you have handed over responsibilities and have trusted the team, then you shouldn't feel bad about extending your break by a few weeks. Better to get the full benefit, rather than be forced to do it again in the immediate future.
Principle 5: Manage your re-entry
I was fortunate to get some advice before I started my break, that the re-entry from something like this was almost as important as the break itself. It would have been so easy for me to walk back into the same routines, habits and responsibilities, undoing some of the good work that had been achieved by my being absent from the company. If we believe that a break like this benefits the company and the team as well as the individual, then it would be disrespectful to come back in and assume everything will go back to what it was. This proved absolutely true in our case; I was able to come back to a company that was going from strength to strength in my absence, with a team growing in stature and maturity. We're entering an exciting period of opportunity and I feel more equipped than ever to help shape that process.
Takeaway points:
I'd recommend not going back full-time. Allow yourself and the team to get used to your return.

Intentionally don't immediately join meetings or take back responsibilities. Wait, observe and adjust your expectations according to what you see or (perhaps more importantly) feel.

Take time to journal or note your thoughts daily. Write down how you feel in advance of and after a meeting or task. Does it give you energy or take energy, does it make you happy or feel like a burden?

Take it slow, if you've done a good job of trusting the team, then there shouldn't be any rush to jump back into a role.
Final thoughts
I'm no expert in mental health, sabbaticals, mid-life or well-being breaks, but I hope what I have experienced and outlined here is useful for those considering an extended break from work. I'm also aware that for many an extended break simply isn't possible. If I can be of any help to anyone as they consider how they might be able to apply some of this article, please do get in touch. I'll do my best to point you in the right direction and provide any advice that I can offer.