Top Titles for Developers and Development Teams
20 Nov 2017
Lucy Brandt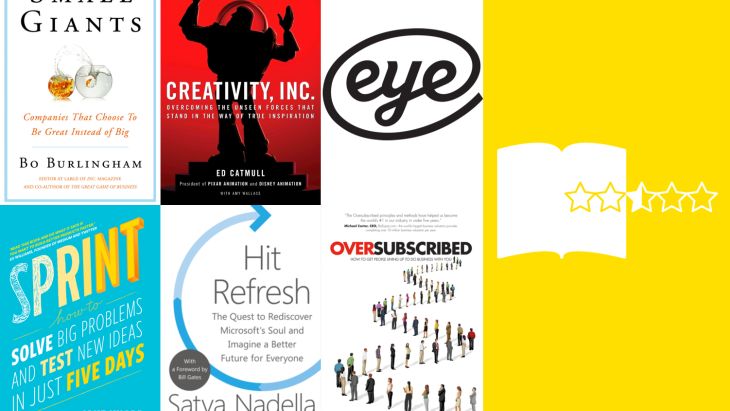 You're never alone with a good book, as the saying goes, so my colleagues here at Brightec are in great company.
All booked up
Last year, we recommended a veritable library of titles on everything from development and design, to innovation, management and entrepreneurship.

We're back with an updated list for 2017, containing a few new and fascinating books that reflect our visions and values, and have led the team's thinking this year. And there's not a copy of the Beano in sight.
Small is beautiful
First up is Bo Burlingham's classic, 'Small Giants' (Amazon). This bestseller explores businesses that have rejected traditional pressures of growth in favour of being small and great at what they do.

Bo takes a detailed look at 14 unique organisations that all define success with different metrics such as their role in the community, their employee happiness and outstanding customer service. It's a compelling concept and certainly one which feels like a good match for the way we aim to do business here at Brightec.

Oversubscribed by Daniel Priestley (Amazon) is another popular office read that illustrates how to get buyers' attention and effectively create your own market place. The book sets out principles to build your brand so that customers flock to you, creating demand that outstrips supply.

Sounds too good to be true? Well Daniel shares a wealth of practical tips about cultivating loyal fans, placing a high value on your business and leaving customers delighted. Again, it's a business philosophy that we can certainly relate to, and hopefully emulate.

Hit Refresh by Microsoft CEO, Satya Nadella, is a book recommended by both Andy and Josh. It explores the increasing importance of human empathy in a world bombarded by disruptive technologies. Artificial intelligence, mixed reality and quantum computing represent the next wave of this incredible revolution, so Satya offers reflections and recommendations for how leaders and individuals can prepare for the impact to society.
A five-day sprint
Don't worry, we're not suddenly advocating ultra-marathons. Sprint by Jake Knapp (Amazon) is perhaps one of the most important and useful books for our development team this year. It's essentially a guide to solving big problems and testing new ideas in five (very intensive) days. It's also a book about continuous improvement which is something we strive for in every area of our business.

Josh has written in much greater detail about Sprint here, looking at how we put the premise of the book into practice by asking one of our (very understanding) clients to be our guinea pig. Fortunately for them, and us, it's been a real success and has opened our eyes to a more prescriptive way of tackling the design sprint - we'd heartily recommend you read it too.
Harnessing creativity
Finally on the design side, Creativity Inc. by Ed Catmull (Amazon) is one of the must-reads suggested by our UX/UI Designer, Jotham. Ed is the President of Pixar and Disney Animation and takes a closer look at the role of creativity in building one of the most successful media businesses of recent years. It's a book about how to build a creative culture, and what barriers must be overcome to enable employees to reach new heights of creativity.

Jotham has also recommended subscribing to Eye Magazine, a graphic design journal for professional designers, students and anyone interested in good writing about design and visual culture.

We hope you find some of these new books as thought-provoking as we have - happy reading!