10 Minutes with Caz
4 May 2016

Brightec Team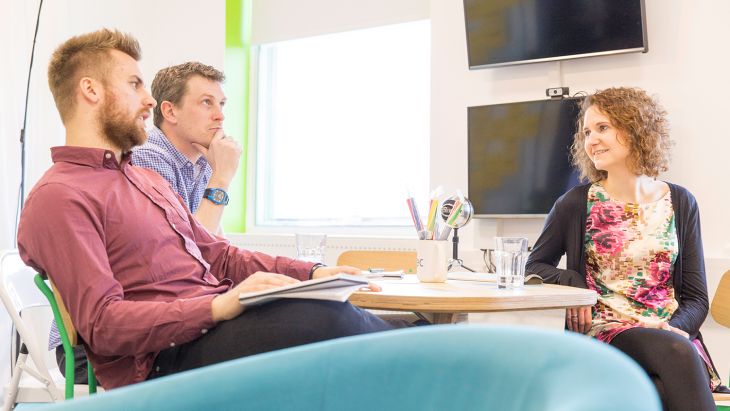 Our new Project Administrator regularly organises her CD collection alphabetically. Can you?
Jimmy Hill & John Major
'Duller than dull'. That's how the local rag describes Worcester Park in Surrey, which is where Caz Houghton, our new Project Administrator grew up.
Dull is probably a little unfair. After all, Worcester Park was also home to Jimmy Hill (former football personality with long face & funny voice) and John Major (former Prime Minister with long face & funny voice). So obviously, not dull.
It was here that Caz attempted to become the towns most famous resident as she began a fledgeling ballet career.
Sadly, this was curtailed following a clash of a TV and her face.
Caz's childhood was soundtracked by the first electronic device she owned - a brightly coloured cassette player. Her favourite albums were, well, story tapes. Her love for story tapes was so overwhelming that the poor cassette player was worn out and broken within a matter of days.
'Every day is different'
Fast forwarding our story somewhat, after a University sojourn in Cheltenham Caz found herself working here at Brightec. She saw our job advert asking for someone that enjoyed alphabetising their CD collection and knew she had to apply.
We asked what in particular Caz enjoyed about working at Brightec: 'Every day is different'. We'll take this as a ringing endorsement of our team.
Caz went on to add: 'I love working with a team that understand how to communicate - and do it well too'.
When not organising our CD collection, ensuring all our stationery is perpendicular and in general keeping us all alive, Caz is also a keen sailor.
In fact, she's most likely to be found outside; on the water, by the water or enjoying the Sussex countryside on the South Downs.
Thermometer app
As is our standard procedure for all staff, an initiation test if you like, we like to ask our newbies one crucial question: If you had a limitless budget, time & technology what is the one app you'd build?
Points are awarded for originality, feasibility and world changing potential. We've had some real zingers too - Mike's Mechanic App, Steve's Musical Brainwave app (don't ask how) and Josh's app to help him remember his wife's name (no kidding).
So, the gauntlet is well and truly laid down.
What revolutionary idea could Caz come up with? 'I'm always cold so would love an app that could adjust your body temperature (like the one you can use to set your heating when you're not at home)'
I think that's called a sweater.
Caz has written more about her experiences in joining the Brightec team here: Becoming a Brightecoid.
Click here to learn more about Caz and what she brings to the Brightec team.