10 minutes with Caz
10 Mar 2021

Brightec Team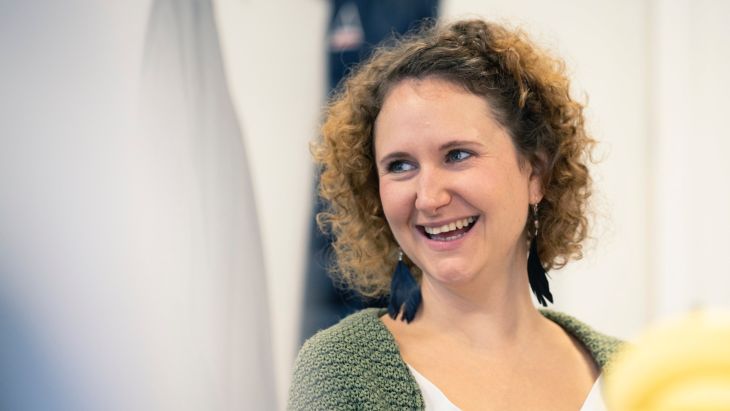 Not all heroes wear capes, some wear dinosaur-print yoga leggings, and a bobble hat (indoors)
Feeling stressed, too busy or forgotten to do something? Our Studio Manager Caz will come to the rescue. Permanently chilly and usually doing three different things at once, Caz exemplifies what it means to be a multitasker. From social media marketing, to meticulously arranging deliveries of delicious pastries while we've been working remotely, Caz is always one step ahead of everyone when it comes to organisation. A relentlessly adaptable team player, Caz has been involved in many different roles within Brightec - from Admin to Project Coordinator and always Chief Organiser of Birthday Cakes to observing user testing, writing our monthly newsletters and anything else in between. If there's a surprise croissant or doughnut delivered to our door, we always know who to thank.
Now and Zen
After studying Publishing at university, Caz was determined not to be a journalist, or work on magazines. So, naturally, her first job out of university was as a journalist for a magazine (what a news-ance). Armed with experience in writing clever and insightful content, fast forward to 2021 and Caz's fifth year at Brightec, she's still scribbling away - albeit social media posts and blogs. Where does this writing prowess come from? We believe it's fuelled 99% by peanut butter. Apparently there is nothing it doesn't go with…. (The rest of the team can think of a few!)
Although yoga keeps her grounded, Caz loves to travel (when it's allowed!) - whether that's jetting off to Thailand or Guatemala, the yoga teacher training she completed in India or eating copious amounts of food in Sri Lanka. Where's next on her bucket list? Fiji, and the famously exotic...Scotland.
When she's not organising us all or gathering information for team Kahoot quizzes, Caz is also a talented yoga instructor and life coach. With these skills under her belt, on top of everything else she already does, she has recently started a new role as a coach for several of the team members in Brightec. As our (virtual!) Studio Manager, Caz is always checking in on people to ensure that they are doing ok. No wonder she regularly receives the Loyalty Legend on our Kudos Board! She has an admirable aptitude for saying the right thing when you need to hear it, and really hits the nail on the head when helping find a solution to any problem that may arise. Although hopefully not literally.
Despite her endless capability for problem solving, Caz is known for her inability to gain composure once laughter surfaces. She finds having her photo taken particularly awkward, apparently it's the pressure to not laugh at the wrong moment that makes it such a challenging experience (you can imagine team photos with Caz are a barrel of laughs).

Freeze Frame
What revolutionary app could Caz come up with? 'I'm always cold so would love an app that could adjust your body temperature (like the one you can use to set your heating when you're not at home)'
Not sure we've warmed to that idea yet.

You can read more about Caz and her approach to our work as an agency here.