Awarded for Happiness
25 Oct 2019
Josh O'Riordan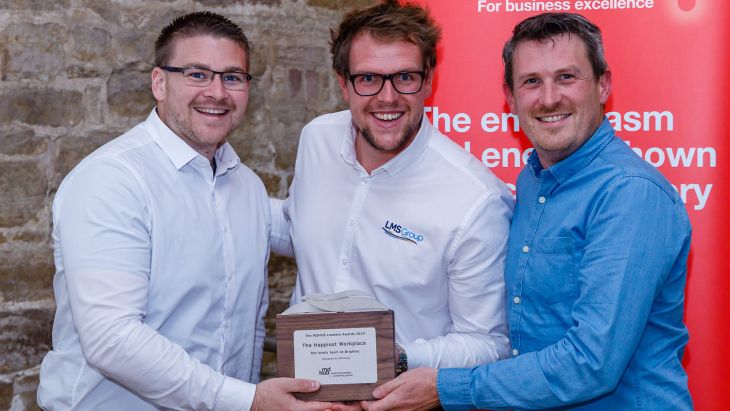 We're really excited that MDHub awarded Brightec an award for happiness.
According to the World Happiness Report 2018, Finland is the happiest country in the world to live in. Which considering during some of their winters it's dark 24hours a day, that's a pretty mean feat!
The United Kingdom might not be top of that chart. However, we're still sitting pretty happily in 19th position a smidge behind the US. Which is good news for those of us living here.
Happiest Workplace
The World Happiness Report is fascinating but what it didn't include is the happiest places to work. Which is a shame as we have been crowned Happiest Workplace! (Read more about our other awards here).
And what makes us even happier is that this award was given to us by an extraordinarily special group. This wasn't awarded at a big fancy awards show. No money was spent on a big table and tickets. We didn't even enter a carefully crafted entry. No, this award was given by our peers. People that really know us, the good and the bad.
Peer Support
Both Andy and Josh belong to MDHub, an organisation that exists to support leaders and sustain growth. It's the premier peer to peer business growth network for Managing Directors and their Senior Board Directors in the South of England.
We meet regularly and discuss the fears, failures, successes and achievements of our businesses in all its rawness and reality. These peers have seen the very best and the very worst of Brightec.
And that's what makes this award so unique.
What they said
The award was sponsored by LMS Group's Managing Director, Luke Mead. LMS Group are an active member of MDHub and provide industry-leading business IT & Telecoms support.
Our good friend and Managing Director of MDHub, Fiona Shafer, had this to say of Brightec:
"I always walk into the Brightec office and feel the weight of the world slipping off my shoulders, they have created a beautiful, calm and relaxing space in the unlikely staging of Vantage Point.

The warmth of the greeting from the team is only beaten by that of Cookie the office dog who regularly joins our workgroups.

They do some great work but also spend time and energy supporting and celebrating each other.
They work incredibly hard to produce brilliant work but do not have a crazy hours working culture - they also hold the award for naughtiness because of their generous hospitality on the food front at workgroups.

Their Kudos board is rightly famous – I still want to know what gets you "The Mind of Aristotle Award".
Topping the chart
So the UK might not be topping the World Happiness Report just yet, but that's ok because we know that for our little space in Brighton we can bring some joy to work.
Photos from Carlotta Luke.
Awards Sponsor LMS Group.
Happiness goes hand in hand with mental health...
Which is why Rhys wrote an amazing blog on mental health in the workplace here
Brightec exists to prove it is possible to create and operate a long-term, happy and profitable business. We're delighted to be recognised for our company culture, as well as the work we produce for our clients. Read more of our award wins and success stories here.