Starting out in a new industry
18 Feb 2020

Jonny Townend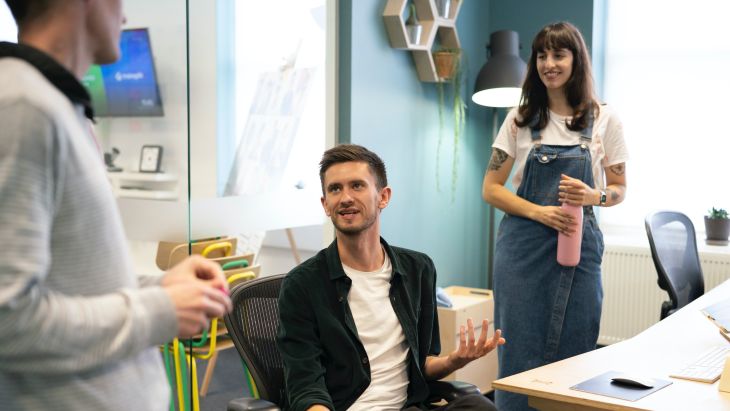 Jonny is our latest junior developer, here's his experience of working at Brightec so far…
Along came Brightec
Starting out in a new industry can be a daunting experience. Over the past few years, I've dipped my toes into the world of app and web development, but never quite found the right route to take. I started a whole host of my own programming projects, but nothing stuck and I found myself hungry to get my teeth into a 'proper' project.
As if by fate, along came an opportunity at Brightec. With a great work environment and a clear set of core principles, I didn't have to think hard about jumping at it. Eight months down the line, I know I made the right decision!
Finding a team
When developing any skill, it is important to surround yourself with the right people. There are near-infinite resources at your fingertips on the web, making it easy to jump in and get started with your own solo development projects. But having a team of people to learn from helps elevate your skills to the next level.
Within the Brightec team, there's a wealth of knowledge and expertise. Great start. But it's the culture of sharing and mentoring that creates the perfect environment for learning and developing, no matter what level your experience. For me, this has been invaluable.
Getting stuck in
Another great way to start honing your skills is to 'get stuck in'. There's only so far you can go with a tutorial or a demo project. Eventually, you need to take the plunge and start working on a project 'in the wild'. Initially, I was worried that I'd be out of my depth, but the learning curve quickly started to level out. Over the past few months, I've had the chance to work on several different projects, and have learnt something new from each of them.
Code review
Code review is a vital part of our development process at Brightec. All of our code is reviewed by another member of the team, this ensures a robust, thoroughly checked code base. As a new developer in a new team, code reviews provide real-world, practical advice from my peers on the 'dos and don'ts' of app development, and also on the specific practices and processes that the rest of the team adhere to. Code reviewing another person's work was (and is!) a fantastic way of getting to know a new project, giving you the overview and context that you need to start working on it. See what Chris has to say about Code Reviews here: https://www.brightec.co.uk/ide...
Giving back
Coming up to the eight-month milestone at Brightec, I know I've learnt a lot. Not only in terms of technical ability but also in terms of working and communicating with the rest of the team. I've also learnt that a big part of developing a new skill is sharing the things that you've learnt. The culture of sharing (everything from sharing knowledge between team members, to writing blog posts and having a steady supply of snacks!) is an integral part of the Brightec culture and something that I am now proud to be a part of. As my confidence grows and I continue to develop my skills, I'd like to give back to that shared knowledge base myself.
Watch this space!
We believe the Brightec culture is pretty special and we're always looking to add to that with individuals who care about their craft and never want to stop learning. If you're a talented developer or designer and think you fit the (slightly Sketchy) brief, we're keen to hear from you. Please send your CV and some details about yourself to team@brightec.co.uk.