What did you say?
19 Mar 2020
Caz Houghton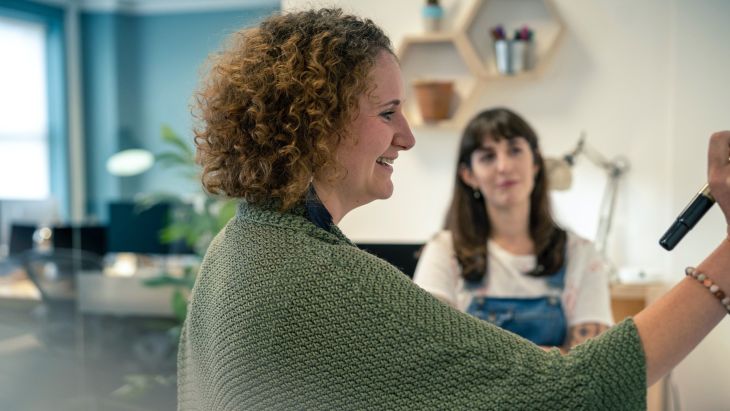 Our Stand-Ups weren't serving us as best they could, but its nothing a freshly brewed coffee couldn't solve.
It starts with coffee
At Brightec we love working together. And we love coffee. So it's natural that our latest iteration to the Stand-Up format revolves intentionally, and purposefully, around both of these. We now have a daily host, whose role it is to put the coffee on in advance of us congregating in the kitchen to check-in with each other.
A traditional scrum format uses the 3 questions; what did you do yesterday, what will you do tomorrow, what is blocking you. These help the development team to plan their day and gain insight into the status of projects.
Stand up is different for Brightec as one of our key aims for these daily meetings is relational. The meeting is an opportunity for us all meet in the kitchen and be together as a team, but we do need structure to ensure these meetings don't become a distraction.
Was there anything the team needed to know?
We had tried using the traditional questions and we'd ditched them in favour of one question; 'what do you want to achieve today?' Each of us would arrive at stand up with a list of the three things for the day we wanted to get done. For a while, this seemed to be working. We thought post-it notes would also help us to pick up (in addition to verbal communication) if someone was stuck on a task. And some of the team really liked the action of writing their list to start their morning.
But in a recent company retrospective (held monthly as part of R&D), a few of the team questioned the value Stand-ups were bringing us. Knowing we have the freedom to ask questions like this meant that we looked honestly at the setup; was anyone actually paying attention or soaking in what other people were saying? We're willing to admit we may have dropped the ball on this.
Was there anything blocking us?
Some of the team felt that the Stand up was disruptive to their day. We all have different working patterns so for some, 10 am is the start of the day, for others it's coffee break time and for inbetweeners, it's prime deep-working time.
With this in mind, we decided to trial (yet another) new format. The time would remain the same, the intention slightly different and the format vaguely familiar...
Let it snow(man)
Ok, our new slackbot isn't a snowman but he is called Olaph (I'm hoping you're all Frozen fans). Olaph was created by the very generous team at Kreait, he messages us every morning to engage in a brief conversation about our day ahead:
What are you doing today?
Are there any events or meetings the team need to know about?
Is there anything blocking you?
These answers go to our daily stand up Slack channel (thank you mute button!) and are automatically collated into a spreadsheet - we use Zapier. The host for the day shares this spreadsheet on our kitchen TV so that its a visual point of our conversation once everyone has their coffee in hand.
We still go around the room and share the answers to the stand-up questions. But to keep it more engaging, sometimes the host randomly selects someone to start and we work through the list, taking it in turns to read the answer of the person our turn correlates to on the spreadsheet. This makes it more interesting, keeps every one slightly more on their toes but removes the pressure of thinking about what you need to say whilst the person before you is speaking. Other hosts prefer to read all the entries out themselves, and the ultra hosts provide a summary of meetings before giving an overview of the key tasks each person is working on that day. And we're still waiting for the extra special host who starts bringing us all croissants and biscuits...
We don't think it's just the caffeine kick, having a more social approach seems to be working. And after all, we wouldn't be Brightec if we weren't looking for ways to make our working lives better, improve a process and/or add in some automation.
We believe that having a happy, fulfilled team makes us more productive and profitable. Click here for more about how we foster a culture of productivity at Brightec.