WWDC 2016
14 Jun 2016
Steve Johnson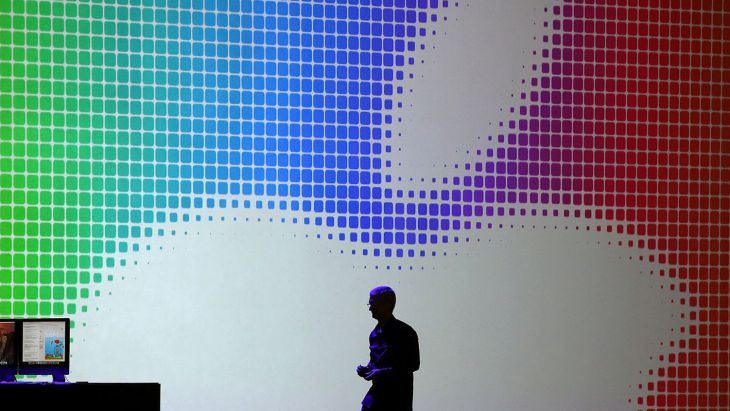 We've become used to big announcements and exciting innovations through the 27-year history of Apple's annual WWDC (World Wide Developers Conference). What would the 2016 edition bring us?
Four Platforms
Tim Cook began with a touching tribute and a moment's silence for the tragic loss of life in Orlando.
...
Tim cracked on with the presentation (this was to be the 27th WWDC) with an acknowledgement of the vital role of Developers (thanks Tim). The App store, open now for 8 years, contains over 2 million apps and over $50billion has been paid out to developers.
A familiar expression emerged throughout the evening; that of 'Four Platforms'. A quick stab of mental arithmetic confirmed that we're not about to be introduced to a new operating system, but that Apple are starting to treat them more as a family.
watchOS
The first of the four was watchOS. It looks like we'll be seeing some major performance improvements, including:
Apps will now able to launch in the background so that they instantly respond the moment selected
A new dock allows you to arrange your favourite apps for easy access
A new control centre and several other tweaks make for an overall improvement on the watchOS experience
With the new Scribble feature, you can reply to messages using handwritten input.
Mini Mouse took to the stage in a demonstration of some new watch faces, including one for activities and the new [eurgh] Numerals face. Unfortunately, they still haven't opened up watch faces to developers.
A quick demo of all this in practice showed how zippy the new operating system is. The new dock previews your apps 'live', so you can grab a quick glance without even having to open the app fully.
Some other key features:
If you enjoy the activity rings on watchOS, you'll love the ability to share your workout with friends and family.
For wheelchair users, Apple have added new algorithms to translate your arm movements into usable data for activity monitoring and replacing the 'Time to stand' alert with 'Time to roll'. A nice touch.
Their new breathe app reminds you when to; you've guessed it… Breathe!
Your own fitness apps will now be able to run in the background and will have access to real-time monitoring of movement and heart-rate.
tvOS
The latest stats show that tvOS now boasts over 6000 apps and 1300 video channels since it's launch last year. Sling, Fox Sports and Molotov to name but a few of the new ones.
The latest developments:
The remote app has been upgraded and offers support for Siri and allows you to use your phone as a game controller
They have improved Siri integration, allowing users to search by topic, search YouTube and even search for live channels right from the home screen.
You can pause/replay live TV and even set your AppleTV to 'dark mode'.
The single sign-on feature (which will feature in iOS as well) allows you to have just one sign in for your apps.
Dev preview should be available today and available free to the public in the Autumn.
macOS
OSX has a new name!
To bring everything in line with the four platforms family, OSX has become macOS with the first iteration sporting the California themed version title of Sierra.
Noteworthy news:
They've improved on Continuity, allowing you to unlock your Mac based on its proximity to you and your Apple Watch [Sorry Pebble users].
Universal clipboard will allow you to copy to the clipboard on your iPhone and click paste on your Mac to drop it right into your documents. This feature is going to improve workflow massively!
iCloud improvements include 'Optimised Storage' whereby your older files will be automatically moved into the cloud to make space for your newer files. They are also adding your desktop to the iCloud drive.
Apple Pay
Apple are never afraid to shy away from a little humour, and they delighted us with their solution to Apple Pay on the Mac. I think it'll take off!
In reality, Apple Pay on the Mac means that you can pay for items on the web by clicking the Apple Pay logo and allowing Continuity to verify your payment using your iPhone's touch ID or your Apple Watch.
Tabs, PiP and Siri
Tabs are now supported in all multi-window apps with no additional developer input required, allowing for much better navigation. Picture-in-Picture video (already available on iOS for iPad) is coming to macOS and works across full-screen.
And last but not least; Siri on the Mac!
As a huge Rush fan, it's always nice to hear my favourite band get a mention and 'Tom Sawyer' was Siri's first choice of song during the macOS demo which included a Windows joke, searching for and playing movie trailers, copying and pasting within documents across platforms and ordering tickets for Finding Nora using Apple Pay.
Developer previews of macOS Sierra are available today.
iOS 10
iOS 10 has ten big features to look out for:
1. UX
They've added a 'raise-to-wake' feature, allowing you to see your notifications easily without having to open the phone. Touch ID works almost instantly on newer phones and you often miss your notifications on the lock screen.
They've made quite a few improvements to the features available from the lock screen Including, conversation threads and better access to app widget.
No mention as yet to the potential security issues of anyone being able to pickup your phone and strike up a conversation in response a recently received text message from your nearest and dearest. Maybe you will have to use touch ID first, or enter your password? I hope so.
2. Siri + Developers = ?
With over 2 billion requests a week, Siri is a hit with iPhone users. Now Apple are opening their cheeky personal assistant up to us developers. Who knows what madness could ensue!

3. QuickType
Predictive text gets an overhaul with QuickType. Context-driven intelligent suggestions allow you to quickly respond to messages.
If someone asks you for an email address, it will suggest contacts that match the name they've asked for. Intelligent scheduling and multi-lingual typing are the other additions to QuickType.

4. Photos
Photos have been improved. It feels a lot like Google photos face and scene recognition, categorization and text searching.
What really sets the new Photos app apart are the 'Memories' and videos you can create on the fly from them. Set a length and a mood and Photos will do the rest, giving you a short compilation of your photos and videos for a certain 'memory' which you can share with friends and family. Memories contain photos, videos, maps, friends and family who were involved and related memories.
5. Developers
Maps has an all new design and offers context related suggestions for places to go, searching along a route and filtering. Maps is also open to developers, meaning that restaurants could allow you to reserve a table and services like Über (featured) could allow you to book a car without leaving the Maps app.

6. Apple Music
15 million subscribers in one year. Not bad going for a new music service.
Continuing their design war with Spotify (read Jotham's account of it all) they've launched a new design - the beginning of a trend in iOS10 where headings are typeface in big chunky lettering. Can't say that I'm initially sold on this new approach, but I'll reserve full judgement until I have the new OS in my hand.
We have lyrics in the player view now, but everything else from discovery mixes, recently played and daily curated playlists seem unchanged, though maybe relocated in the UI.
7. News
The updated News app sees those big chunky headers once more. With 2000 publications available in News, Apple are adding breaking news notifications and subscriptions.
8. Home
While the outlay for home automation from a hardware perspective seems beyond the average home budget, Apple's new Home app certainly makes the new technology seem attractive.
Setting themes for your home, accessible through Siri and the Lock Screen, you could put an end to that journey round the house to turn off all the lights come bed time.
Live video from your door entry system is available right on your phone, and you can unlock your front door right from the lock screen.
9. Make phone calls (!)
At the end of the day, the iPhone is still a phone. And with Facebook messenger, WhatsApp and myriad other apps offering VoIP calls they've moved to update their 'phone'.
The phone app API is now available to developers allowing these internet calls to be recognised within the system as standard phone calls. This also allows for features such as routing your office extension right to your iPhone when you're away from your desk!
10, Send messages (!)
Finally, Messages gets some attention. The look and feel has been updated, allowing for rich links, which adds an image preview of a web page instead of just the link text. It also allows you to play online video within the message bubble; great for quickly viewing all those kitten videos!
Bubbles now have behaviours on them, allowing for better expression when delivering messages, and the new 'invisible ink' feature allows a message/image to be obscured until your swipe across it.
You can reply using your own handwriting, add whole-screen effects and stickers to your conversations.
Developers can get in on the act too as the messaging API is open for business. I was very impressed by one application; a food ordering service that allows for an individual to add their order to the group shopping cart (great for organising curry nights).
Additional features
After an awkward demo fail, a number of other iOS features were announced, including;
Notes collaboration
Conversation views in the mail app
Editable Live Photos
New split view in Safari for the iPad.
Privacy
We were reminded how important privacy is to Apple.
All their communication apps use end-to-end encryption, there is no user-profiling in maps and finally that Apple are at the forefront of a technology known as 'Differential Privacy'. This a means of maximising the accuracy of queries from statistical databases while minimising the chances of identifying its records.
Swift Playgrounds for iPad
With Swift now open source, it has become the number one language project on Git Hub and in order to bring youngsters into the coding family, Apple are launching "Swift Playgrounds for iPad".
Aimed at kids, it slowly introduces them to the concepts and practices of coding as they programatically take control of a character called Byte, writing the code necessary for him to complete each level.
As they move onto more complex features, they can start to explore physics engines and access more technical aspects of the iPads hardware. All-in-all a great starting point for kids and, I suspect some adults who wish to explore programming.
In closing
All in all quite a lighthearted and humorous keynote from Apple this year. I'm looking forward to catching up with some of the workshops and talks as they become available on the WWDC app (on my Apple TV, of course).