10 minutes with Rob
6 Jul 2020

Brightec Team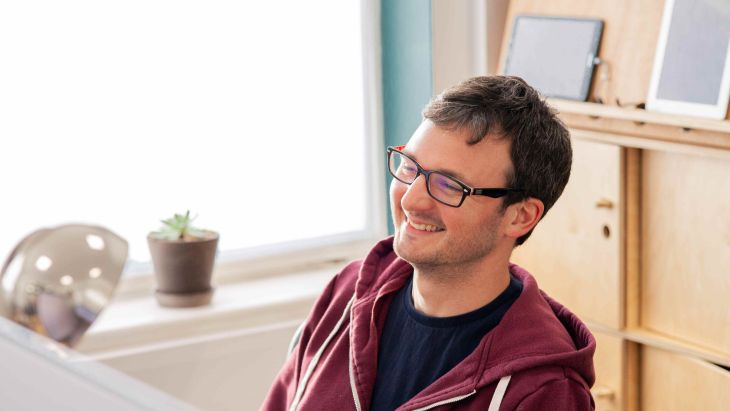 Meet Rob. The latest talented developer to join our team.
Apparently not all that good at anything he enjoys, Rob loves to be creative. He finds drawing and playing the piano relaxing (as long as no-one's watching) but wishes the outputs were a little more promising. As a child, he was a little more adept at playing computer games, and that's where he first got interested in computers... immersed in a world that stemmed from a double-sided floppy disk holder. Before long, Rob discovered the wonders of programming, and finally a hobby he had a knack for. Lemmings and Monkey Island, we thank you.
Rob's history with Brightec goes way back (to school with Josh in fact) but in more recent years we drafted him in on a consultancy basis to help our development team improve our processes. Pre-Brightec, Rob studied Computer Science with Artificial Intelligence at the University of Sussex and worked as a software engineer and tech lead at Google. Yes, we're hobnobbing with the likes of Google (quite literally, Hobnob biscuits never last long in our team).
Asides from exemplifying the Brightec culture; progressively driven, a love of data and enjoyment of biscuits. Rob is incredibly attentive to detail and can, generally, reliably tell his identical twins apart… provided he is not looking at the back of their heads.
His earliest work-related memory is of wanting to be a bank manager, so he could sit behind a desk. We have to admire that he did not just want to work in a bank but, at the age of 4, he had already decided he wanted to be at the top. And happily, at Brightec, we do allow him to sit behind a desk. Objective achieved!
Rob claims that he is not a fully-fledged hoarder, but perhaps does have the potential to be. Judging by the paperwork-laden floor of his at-home workspace, let's just call it denial for now.
What else can we tell you about Rob?
His least favourite sport is rugby but he likes gymnastics and running. He also enjoys singing (but can't sing, of course). Rob is happiest at home and close to nearby family – so much so that he has lived within a 4-mile radius all his life (in Hove, actually. A a local joke, apologies if you aren't from Brighton or Hove). He does claim to be 'remarkably untravelled'. It transpires that this is true with the exception of work trips, the furthest having been to Sydney. Just a casual, long-distance adventure.
The question you've all been waiting for; 'If you had a limitless budget, time & technology what is the one app you'd build?'
Rob would improve his long-distance communication, as he says his preference for meeting people in person means he has very little online existence. He once dreamt he had invented a network-connected tactile mannequin that could allow you to exchange better 'virtual hugs' during a video call with someone… could have been on to a winner with that during Covid-19.
Click here to read more about Rob and his pragmatic approach.