Brightec in 2020
15 Dec 2020
Caz Houghton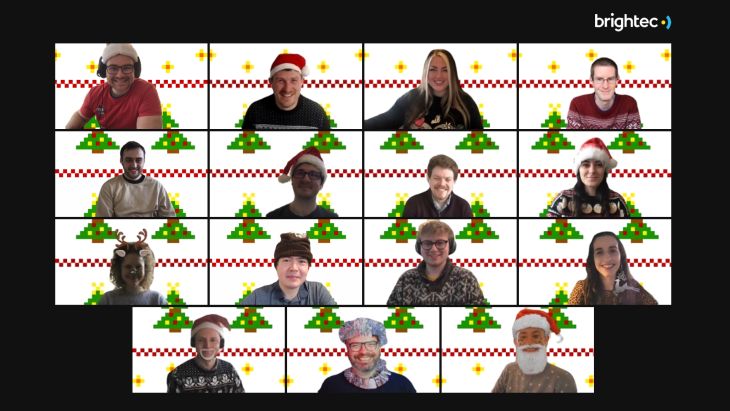 2020 is a year no-one will forget for a multitude of reasons. Here's the year at Brightec in review
We've always said Brightec culture extends far beyond the office walls, and now we know it really is true. It has been amazing to see the team stay connected through online games and socially distanced socials this year. The transition to being a (temporary) fully remote company was a catalyst for changes we'd been thinking about for a while. As existing roles within the team shifted, we recruited Georgia (Head of Operations) and Ellie (Junior Developer). We couldn't be prouder of how the Brightec team has supported each other, remained consistently productive and efficient while remote, adapting almost seamlessly to constant shifts.
This year we've welcomed three new clients to Brightec and are deeply grateful for the strong working relationships with all our clients. We can't wait to welcome you to work with us in person again when we find a new office space that's right for us. Whilst we don't yet know where this will be, we can guarantee it will be filled with coffee beans, sugary snacks and the sounds of a happy team.
We are so grateful to have seen every one of our clients not only remain in business, but in many cases, thrive. Some clients have seen their active user base double since last year, some have seen their app revenue triple. We've seen store ratings for some of our most established apps increase dramatically. Even for our clients working in industries hard-hit by the pandemic, we've seen an ongoing, stable recovery from the initial effects of lockdown v1.
In November, we swapped three-course dinners, blacktie and a champagne reception for our desk, a mug of coffee and maybe a sneaky mince pie eagerly awaiting the UK App Awards' Twitter Feed announcements. We are still so proud that our work with Ribot on the Waterstones app won the Best Retail/Shopping app. The apps also won a Gold Award, in the retail category of the London Design Awards.
Inevitably, there was a period this year when we had a little more time on our hands, so we used the time to develop our own product; Happy Track. This Slack integration sends a daily message to each of our team asking how happy they are, enabling us to monitor how everyone is and offer extra support if it's needed. We've been enjoying gathering feedback from a few external agencies who have been testing for us. If you'd like early access to this, please do let us know.
We know the lines between work and home have blurred in a spectacular collision of makeshift workspace and homeschooling, but we truly hope you are able to enjoy this festive season, however different it may look or feel for you.
The Brightec team will be away from the desks from 19th December until 4th January. We're sure there'll be mince pies, flat yorkshire puddings, log fires and of course new socks… We'll raise a toast (-ed marshmallow) to 2020, and look towards hopeful intentions for continuing to serve our team and our clients as best we can in 2021.