Waterstones app wins Best Retail/Shopping app of the year
17 Nov 2020
Caz Houghton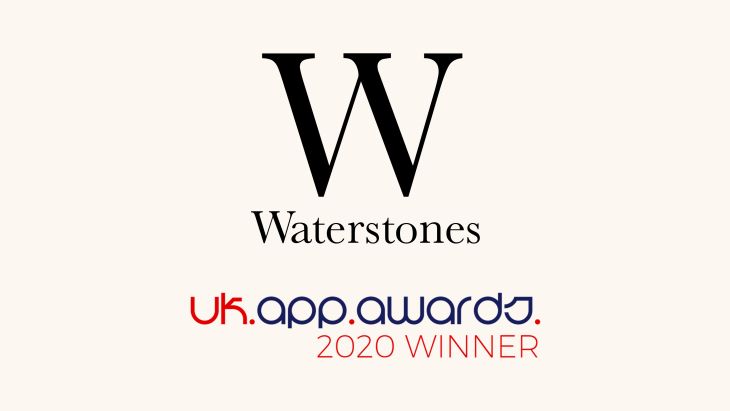 The UK App Awards announced the 2020 winners via Twitter on Thursday 12th November and Brightec were popping the virtual champagne to hear our Waterstones app was named Best Retail/Shopping app of the year.
Replacing a three-course dinner and black-tie awards ceremony, we spent the afternoon settled at our laptops nervously sipping mugs of coffee with an eye on Don't Panic Events live announcements feed.
On announcing the Best Retail/Shopping category, the judges said 'We found this app to be a great experience, very professional and a well-replicated version of the store. The results were outstanding. Very well done!'
Waterstone's goal was to refresh their commercial Android and iOS apps, adding e-commerce capabilities as well as bringing the branding up to date. Design agency Ribot took the lead with UX and UI design while Brightec developed the app in addition to project management support and consultancy from a development perspective. The results exceeded expectations and have served the book retailer's business well during commercially challenging times.
In a competitive marketplace, amidst our noisy digital lives, creating a stand-out retail app requires a considered, customer-led approach and we're delighted to have been recognised for the innovative and creative apps we delivered for Waterstones.
Brightec thrives on respectful debate and insatiable curiosity so collaborating with three companies to refresh Waterstones' Android and iOS apps was a challenge we gladly took on. The apps became of even higher importance than anyone had anticipated and provided a lifeline for the company when physical stores were forced to close for Lockdown in March.
We're also proud that the Waterstones Apps won a Gold award in the London Design Awards' Digital - Retail and Shopping category.
If you'd like to know more about developing a retail app we've created a guide to answer the most common questions. We look at the eCommerce app development process, including establishing your timeline and budget, avoiding the most common mistakes retailers make, what a holistic approach to app creation looks like, and more.
Brightec exists to prove it is possible to create and operate a long-term, happy and profitable business. We're delighted to be recognised for our company culture, as well as the work we produce for our clients. Read more of our award wins and success stories here.