Brightec Open Studio - Creating Company Culture
1 Sept 2016
Andy Ferrett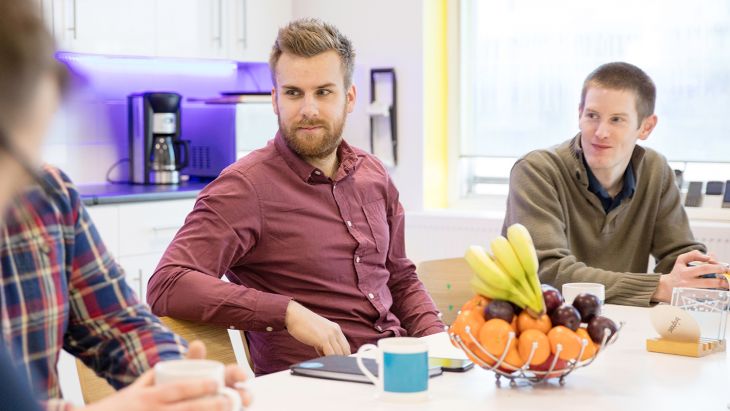 Culture can make or break an organisation. Get it right and you, your staff and your customers will reap the benefits. Pop along to our Open Studio and explore our company culture, discovering how we create and maintain it.
Culture eats strategy for breakfast
UPDATE: This event has now taken place, thanks to everyone that came. We'll be posting some photos from the day soon.
At Brightec we believe that culture eats strategy for breakfast. All of our team buys into an organisational culture; a way of doing and being that strives for continuous improvement and top class results but never to the detriment of our team.
We've worked hard (and will continue to do so) to create our company culture (which, fittingly, includes breakfast) and strive to make our company a great place to work (read more about that here: Why work for Brightec?)
As part of this culture, we focus on building a responsible team and using coaching to help push us all forward.
However, one absolutely crucial factor in creating company culture is the office space itself. You can read all about that here; created a productive office environment, but also, you can visit our open studio on Thursday 8th September and explore for yourself.
Brighton Digital Festival
We're delighted to be part of the Creative, Digital and IT Open Studios which is part of the Brighton Digital Festival.
Over 5 days about 30 different companies are opening up their premises, including us. Thanks to Wired Sussex for inviting us to be involved.
Our open studio
At the Brightec Open Studio you'll get to nose around our HQ and get under the bonnet of our company.
We believe that it's our culture that breeds creativity, productivity, and business success and at our Open Studio, you'll get an opportunity to hear about and (perhaps more importantly) experience our company culture - warts and all.
During your tour of our space, you'll meet the designers, developers and all the others with less simple job titles that make up our team. They'll answer your questions and explain how we do things and why. All concluding with cake and refreshments in our kitchen.
Talks and discussion
During our open studio, we'll host a series of talks and short discussion based on the following:
The history and values of Brightec - Andy Ferrett (Managing Director)
Coaching and staff development - Josh O'Riordan (Production Manager)
Design process and collaboration - Jotham Oakley (UX Designer)
Developer culture - Steve Johnson (iOS Developer)
When and where, how much?
Thursday, 8 September 2016 from 16:00 to 18:00
Brightec, Suite 9-13 Level 7 New England Street, Brighton, BN1 4GW
Price - It's totally free! Just don't forget to reserve your space.