Ten minutes with Dave
24 May 2018

Brightec Team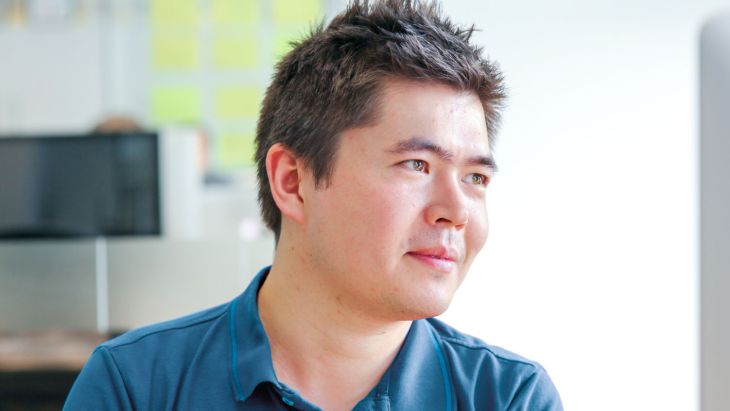 We welcome another hugely talented app developer and multi-instrumental musician to the team
The Brightec band
As part of Brightec's unspoken mission to fill the entire office with musicians, we're absolutely delighted to have Dave Thompson join our merry band. At this rate, we'll be ready to release our first album any day now. It will certainly be something of an eclectic mix given our broad range of musical tastes.
Pitch perfect
For most of us mere mortals, being able to play one instrument with any degree of competence is a huge achievement. But Dave not only plays violin and piano, he's also a bass and acoustic guitarist as well. He gets invited to play regular gigs at local Sussex venues and, as if all that isn't enough, he's also in demand for weddings too.
When Dave's not honing his musical talents, you can find him on the football pitch. He's a keen defender and plays in a local soccer sixes league. Whether he likes it or not, he'll also shortly be joining our staff and client fantasy football league.
Genetic engineering
A passion for engineering runs in Dave's family. Growing up in the leafy tranquility of Haywards Heath, Dave knew from a really young age that he wanted to mess about with computers and electronics. His Dad is a computer systems engineer and this had a big influence on him when he was growing up. It's a love that he's also hoping to pass on to his two little girls as they get older.
An Imperial career
After studying for four years at Imperial College in London, Dave came away with a masters degree in electrical and electronic engineering. From there, he made the jump to software and landed one of his first jobs as an embedded software engineer at Cobham Technical Services. He wrote firmware for ground penetrating radar systems, as well as satellite communications systems.
Immediately prior to joining us, Dave was working at security behemoth, McAfee, in central Brighton. He spent four years working to develop full disk encryption services for enterprise applications. During this time, he gained a huge amount of development skills and experience which we're delighted he'll now be bringing to our Brightec app development projects.
What app would you build?
Every new starter at Brightec gets asked the same question - with unlimited time and money, what dream app would you build?
"It would have be something musical. Perhaps a fun AR "air-band" type app where you film a group of people, assigning each person an instrument, then allow their air moves to be translated into real music."
"Or something I could use in a live gigging situation. There are already a huge wealth of music apps that can be used for music production and live use; looping rigs, backing tracks, software synths, midi controllers etc. But it would be brilliant to have an app that could be used to collect all these into one place and create some kind of industry standard protocol. It would be amazing for ease of use and creativity when playing live."
So there you have it - a whole selection of new musical app ideas just in case he ever gets any spare time. We're so glad to have you on board, Dave!