10 minutes with Dave
24 May 2018

Brightec Team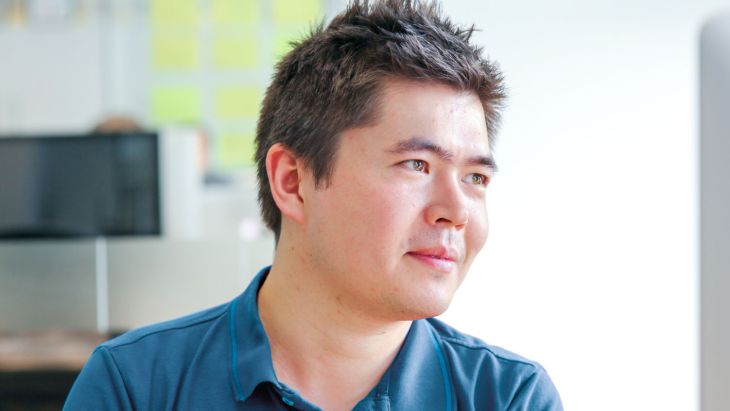 A man of few words, Dave has the ability to deliver one-liners with a straight face and continue as if nothing untoward just occurred
Playfully coy, this Senior Developer is often responsible for strange props or alterations being added to people's photos on the kudos board. He lives with his horse-mad daughters, his equally horse-mad wife and their dog Alfie. And insists that two things that annoy him most are horses and dogs. But he's actually a pretty sound guy, with a big interest in audio tech and video games.
Dave is hardworking and humble in his deep knowledge of iOS development. He enjoys projects most during phases of momentum, thriving on the sense of achievement as things come together. He's always keen to learn areas in which he can improve, and happily processes new information about technologies and skills to feed into the work he does.

An Imperial career
Inspired by his Dad, a computer systems engineer, Dave studied Electrical and Electronic Engineering at Imperial College London, and even completed a Masters. He began his career as an embedded software engineer at Cobham Technical Services where he wrote firmware for ground penetrating radar systems, as well as satellite communications systems.
Dave gained a huge amount of his development skills and experience working at security behemoth, McAfee, in central Brighton. Whilst working there he would occasionally see Josh, who, having known Dave from his time in London, put his persuasive skills to the test until Dave was coaxed over to the Bright(ec) side in 2018.

Drop the bass
For most, the ability to play one instrument with any degree of competence is a huge achievement. But Dave plays violin, piano, bass and acoustic guitar. He regularly plays gigs at local venues in Sussex and is even in demand for weddings too. A strong team player both in and out of work, his favourite hobby is 5-a-side-football… we hear he's a great de-Fender.
When asked that prestigious question, what app would you build if given unlimited time and money, Dave knew straight away that it had to be something musical. 'Perhaps a fun AR "air-band" type app where you film a group of people, assigning each person an instrument, then allow their air moves to be translated into real music."
"Or something I could use in a live gigging situation. There are already a huge wealth of music apps that can be used for music production and live use; looping rigs, backing tracks, software synths, midi controllers etc. But it would be brilliant to have an app that could be used to collect all these into one place and create some kind of industry-standard protocol. It would be amazing for ease of use and creativity when playing live."
A whole selection of new musical app ideas to keep him busy if he ever wants an excuse to avoid helping his family out with their horse at the yard...
Click here to find out more about Dave and his commitment to learning.