10 minutes with Rhys
8 Aug 2017

Brightec Team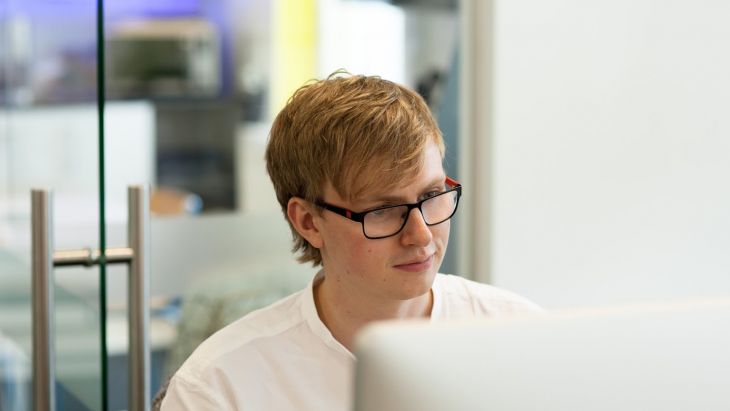 Introducing Rhys, the newest member of the Brightec team.
A new breed
Rhys is a rare breed here at Brightec. He's one of the few people young enough to use Snapchat, and boy does he use it (we just made that up, we don't know, too old you see…)
Being the young whipper snapper he is, he's adept at that social media lark and claims to know all the twitters. It's even how he first discovered the bold new world of Brightec - on the twitter.
From this discovery, Rhys contacted us to enquire about a placement year and it wasn't long before he was on the train heading down for an interview.
Conwy - Angoulême - Manchester - Brighton
Prior to his recruitment to the Brightec team, Rhys spent his early years in Conwy, North Wales. A cross channel adventure was to follow with a move to Angouleme in France in his teen years.
From there he later returned to the UK to study at the University of Manchester. It's from his university course that he's arrived on placement here at Brightec.
He's certainly fitted in well so far and has been eagerly sinking his teeth into some of our challenging development projects alongside our senior developers.
"I love how lovely and willing to help everyone at Brightec is."
Lake swimming
Of course, Rhys has a life beyond apps and Snapchat.
He was once a devotee of RuneScape and an addict of the GameBoy Colour (his first electronic gadget).
These days, however, having spent his formative years exploring Snowdonia, he's most at home walking in the mountains or swimming in the rivers and lakes of North Wales.
An app to save humanity?
The one question we pose to all our team is this; 'If you had a limitless budget, time & technology what is the one app you'd build?'
To be honest, most of the answers have been, how should we see this kindly… dreadful.
However, Rhys was not to be perturbed and in fact, he's had an idea bubbling along for a while. We'll let him explain:
"I had an idea for an app last year called Recyclr (or something similar) where we would somehow connect recycling bins to user's phones and every time they recycle something they get points depending on the items."
Sounds good Rhys, but what if they don't have a... Oh, you've already thought of that...
'They could then redeem those points for rewards/money or something along those lines. If the user didn't have a phone then they could drop items at a local centre and could save up for one. I thought it might be able to tackle the homelessness problem in Manchester as well as climate change."
#winner
Click here to learn more about Rhys and his work at Brightec.