10 minutes with Nick
26 Jan 2021

Brightec Team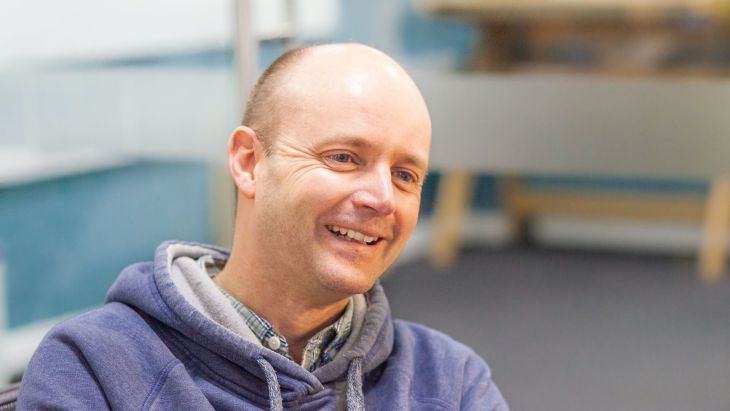 Don't forget you're in good company
Before he inadvertently became a family taxi service, Nick enjoyed snowboarding. Perhaps this is what enticed him to live in Crowborough, famous (within the Brightec team at least) for its micro climate of snow.
When not in front of a computer Nick's an outdoors type. It was this enjoyment of the outdoors and a collision with his skills in IT that led him to working as the sole developer for a Christian Charity which organises the outdoor festival; Spring Harvest. Through his role there, Nick met Andy (yes, it seems a common theme) and found himself in an interview that he wasn't expecting.. Whether through coercive persuasion, or hopefully aligned values, Nick was soon a member of the Brightec team.
Meticulous in his methods and thought process, you can rely on Nick to consider all aspects of a solution and the needs of the people involved. But give him time to add a splash of tea to his milk (it's not pret-tea) and mull over the options before he's ready to present his views. This contemplative, conscientious, knowledge-filled Senior Developer will not be rushed.

Code for Code
At school Nick was fascinated by Genetics and wanted to be a Biologist. But his formative years were dominated by computers, and programming soon became a keen hobby. "My Dad bought a ZX Spectrum 48K when I was young and I remember typing in, by hand, the long program listings that were published in computer magazines." Having studied Biology and Computer Science at Brighton University, Nick's development skills are now somewhat more advanced although he still retains a fascination for Genetics, the biological equivalent of coding.
Pie and lattes?
Nick spends his weekends watching his teenage kids playing hockey, curling, football, or whatever sport they've chosen that year. On whether he enjoys this pastime or not he remains tight-lipped. Diplomatic as ever.
More recently, Nick has ramped up his own exercise regime (a daily trek up seven flights of stairs to the Brightec office) and emerged as Joe Wicks' biggest fan. He originally started in support of his daughter's home school PE, but now participates in the workouts (alone) three times a week. And he's even joined an online pilates class 'One hundred' anyone?
He is a self-confessed Introvert; he cares about the world and the people but doesn't want any attention in return. Which makes it slightly less awkward that Nick always seems to be the team member that someone forgets in the tea round…
Nick is a rare breed of human who will happily eat the overripe bananas from your fruit bowl, although lockdown saw those speedily stolen from under his nose in aid of banana bread. Forsaking himself for all others in his family.

One final question....
He's had six years to ponder since we last asked, and it seems Covid has sparked a nugget of inspiration in his desire to 'do something useful for the human race'.
If Nick had a limitless budget, time and technology he'd build an open source mutation tracking web app. With his deep understanding of human and development code, he's got our backing.
He quite literally is the Brightec value; 'We care about our craft, each other and the world. We want to change things for the better and strive to put people and our ethical beliefs at the heart of everything we do'.
Find out more about Nick and his dedication to best practices here.