10 minutes with Andy
8 Sept 2020

Brightec Team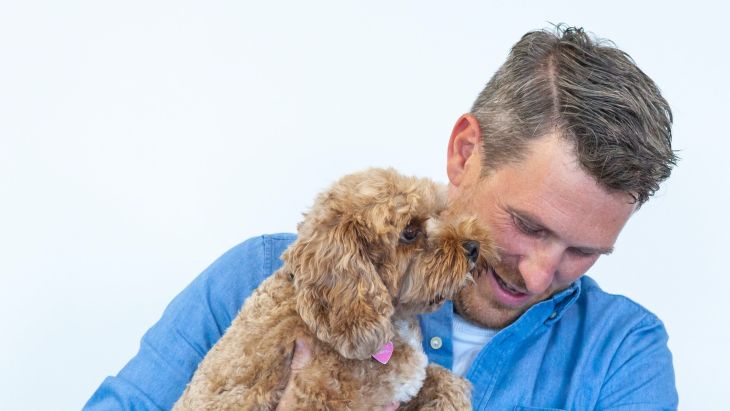 Brightec wouldn't exist without Andy, and his garden shed
Andy is perhaps the most well known face of Brightec. He'll drive over 30 miles for his favourite sandwich and embraces winter with mood lighting in the middle of the day, (his infamous dark mode) unsubtly attempting to encourage the team into hibernation. Along this theme we've discovered he has a strong opinion on automated timer switches...
Oh, and hang your jumper on a coat hook, not the back of a chair. This man can't stand mess. Unless it's in his garden shed… but you didn't hear that from us.
What else is there to know about our Managing Director?
You might expect tales of Andy's early years spent submerged in video games, gradually building determination and passion for his dream to dominate the technology sector. In fact, he spent much of his childhood rummaging through his dad's shed in search of usable parts on which to base his multiple inventions. From automated curtain openers, to bedroom burglar alarms and a tennis ball gun… involving a drain pipe, empty can of coke and some lighter fluid; let's leave that there before this gets messy.
Perhaps in a bid to protect his house, or a notion to regain composure of his beloved tools, Andy's dad gently directed his son towards the world of technology. Somewhere along the line, Andy developed an inherent need for neatness. Perhaps there just wasn't much to do in his childhood home of St Albans.
With his attention directed to non-explosives, it wasn't long before Andy was writing programs in Basic on his IBM 5150 computer. And, armed with his IBM, an Ericsson GF768 mobile and an N64, he headed off to Sussex University to study Computer Systems Engineering.
Following graduation, Andy started out as a youth worker and then worked as an IT manager for a charity in Eastbourne. Alongside these roles, he started his first business in his spare time - Web and CD-Rom (remember those) development. Over time, this expanded and he started several small companies doing Video - DV Transfers, and then floor plans and panoramic photos for Estate Agents.
Having spotted an opportunity to create innovative custom applications including CMS (Content Management Systems) by using newly emerging technologies, Andy once again found himself shut away in the garden shed. This time with two employees and the start of Brightec.
Caffeine and Sugar
Never one to miss an opportunity to spend time with his family and dabble in DIY, Andy set up a family-run coffee trailer, Brew Box in 2018. This triggered his decision to become a coffee drinker and thus the Brightec team supported him through his quest to discover the makings of a coffee he actually liked the taste of… BackYard Coffee beans, milk and one sugar if you're offering.
Andy's entrepreneurial spirit is most likely fuelled by diet coke and his desire to constantly exceed expectations. He thrives on consensus, a willingness to find common ground and listen to the opinions of others.
This consideration and care for others; a desire to please and keep peace, are at the core of his business decisions; is it right for the client, is it going above and beyond and does it feel right for us? His drive to know and understand what works for others makes him a great leader. He easily gains respect and trust from clients and employees alike, something that placed him perfectly to lead the company through turbulent time in 2016.
Although verging on OCD about how he likes an office space to look, Andy is able to adapt quickly. He embraces challenges with an openness to learn and the view that it's an opportunity to create and grow positive change.
Usually clutching a fidget spinner in one hand, it would perhaps be fair to argue that Andy gets bored easily. He likes to get things up and running, and then (in his own words) find someone better to keep it going. "I love working with people who are better at what they do than me. I get to pull together a team to achieve amazing things and develop a company culture that is different from what you generally see."
Smoke and windows
Andy likes cookies so much he named his dog after them. He claims the kids named her, but chocolate chip are a weakness. This cute cavapoo loves attention, walks and watching reflections on the ceiling, but never quite worked out the glass walls in the old office.
Happiest when outside, Andy's weekends are often spent taking an inflatable boat out on the Adur river with his family or fishing. He has an impressive ability to find any excuse for a BBQ, although he is partial to a spreadsheet too.
An avid country music fan, he feels so at home making music amongst haystacks that he even released an album.
Once such a stranger to holidays that it became a company joke to fulfil some DIY if Andy ever did take time off, something that may have made team members slightly less popular with his wife. (We wonder if his drive to keep balance is behind the noticeably more frequent holidays in recent years). Although, the surprise DIY projects were still favourable to a near tennis ball through the window at a team BBQ… And the fireworks against the trellis.
Family
Aware that the vast majority of our adult lives are spent at work, Andy sought to create a company that people love working for. His strong family ethos extends into his working life, he values the team being together and building strong friendships that extend beyond the bounds of a working day.
Andy enjoys knowing that people feel included, he wants to make them feel part of something. From our onboarding policy to our company values, it's clear that Brightec is family to Andy.
Perhaps, it has now become clear how, along with Josh, Andy has led a company well known for its culture. A company built to reflect his own values inside and out.
The next venture
He may have founded the company, but he doesn't escape the big question. A man of tradition, Andy still owns his first gadget - a pager, but we were keen to hear; ''If you had a limitless budget, time & technology, what app would you build?'
In a response which describes Andy better than any blog could, he kept his answer somewhat cryptic - a blank poker face, an exhalation of breath and shuffling of feet...
Who knows what venture is coming next.

Stay aboard with Andy and his leadership journey at Brightec here.