10 minutes with Elle
22 Jul 2019

Brightec Team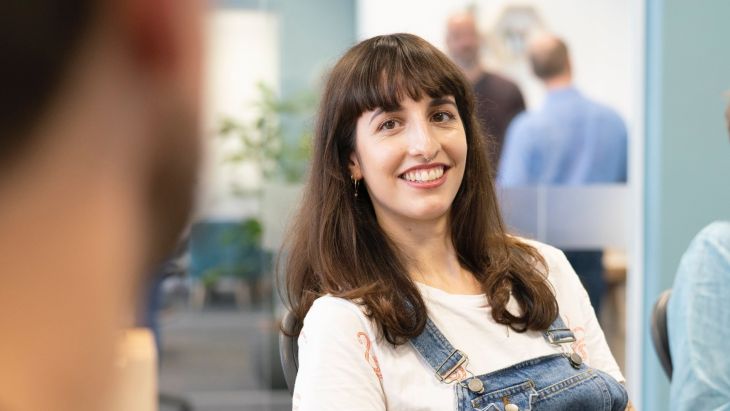 Say 'aloe' to our plant loving designer, Elle
As a designer, Elle's focus is on giving the user the best experience, ensuring accessibility and understanding what the user wants and how to to fulfil that need. Lead by her ability to understand how others feel, this empathy makes her an excellent champion of User Testing at Brightec. Away from work, she's also a keen writer and incredible illustrator.
Whilst Elle can nurse almost any plant back to life and see it 'flour', her baking skills are a little rough around the hedges. So while her cakes may fall a little flat, she does love to cook, and hosting dinner parties for friends is one of her favourite things to do… as long as she's cooking. We have one self-proclaimed fussy eater on our hands!

The bigger picture
Elle grew up in Eastbourne and this seaside town is where we can only assume she gained her uncanny ability to recognise and identify various types of seagull. She enjoys walks in the woods and nature hunts with her son, though more often than not, she can be found on the beach watching the waves. Ideally with a coffee in hand.
Elle values equality and the freedom to be who you are. Integrity and honesty are at the heart of all her choices. She originally studied French at Queen Mary University and taught in Lille for a year. After living in France she moved to London, where she worked for the Gingerbread charity on a digital campaigns internship. It was here that she became inspired to expand on her interest and knowledge of CSS and HTML.
Nurturing talent is very much part of our company's DNA so when Elle joined us for work experience after completing a Diploma in Digital Design, and impressed the whole team with her considerable skills in web design and UI, we couldn't let her go. With a dry sense of humour, Elle quickly established herself as the Queen of Puns and also kept the majority of our office plants alive, as well as a large colony of flies. Outside of work, she volunteered her web design skills for an art charity that helps deprived girls in Tanzania.
Elle cares deeply about the world around her and has an aptitude for articulate design. She's combined these strengths to write a number of blogs giving our clients insight into the design process at Brightec. As well as sharing her technical knowledge, Elle accepts help and advice graciously, always willing to learn and expand. But she isn't afraid to call you out when you're wrong, whether that be a decision you made, the grammar you used or film choice at the weekend.
What did you say?
When asked what app she would create given an unlimited budget, Elle settled on one that would recognise any song you were humming, and tell you what it was. She said it would be really handy for all the times she didn't know the lyrics or the artist.
Ironically, after a few moments thought, she announced; 'actually, an app that would 'cmd + z' anything you'd just said. If the app could pick up your words and remove them for existence and memory I would use it ALL the time.
Click here to find out more about Elle and her quest to making things better.