10 minutes with Jonny
19 Jun 2019

Brightec Team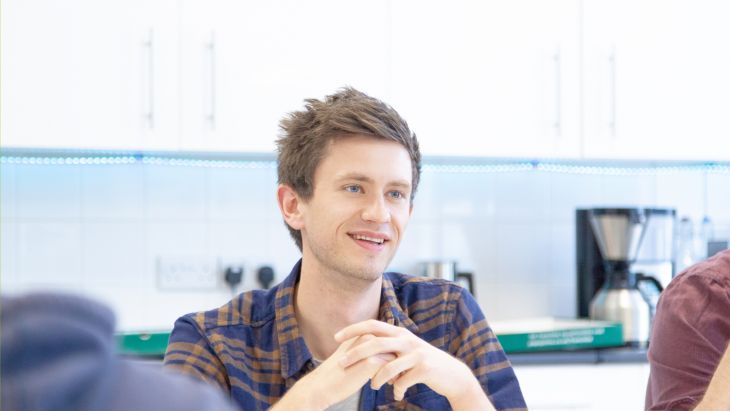 Meet our brilliant new Junior Developer with a passion for coding and capoeira
Drumroll...
We've been rapidly expanding the Brightec team over the last few weeks and we're absolutely delighted to welcome new developer Jonny Townend. Hailing from Halifax, not only does his appointment help to (partially) redress the Northerner/Southerner office balance, but he's another musician to add to our merry band.
With musical skills running in the family (his uncle is a renowned composer), Jonny can turn his hand to drumming or to playing the keyboard. In fact, inspired by music from all over the world, Jonny was responsible for setting-up African drumming sessions at his university.
Video editor
Before joining Brightec, Jonny was a freelance video editor, collaborating on a wide variety of exciting projects. One of his most recent commissions was a generative art coding project. Roughly translated, this means he worked with an electronic artist to help create a music video based on data from the brain - impressive stuff!
Alongside the video editing work, Jonny has also honed his skills for iOS coding and web development with plenty of online courses. One of our iOS specialists, Dave, will be his technical mentor as he learns the ropes here at Brightec.
Physics master and part-time ninja
Fascinated by science and technology from an early age, Jonny graduated from Southampton University with an MPhys. When he's not coding (or playing music) we've also discovered that Jonny is also a part-time ninja. He loves capoeira and has just joined a new club in Brighton to improve his abilities. He's also a keen cyclist, though hopefully not at the same time.
The best idea for an app?
If Jonny could build one app, it would be an Instagram filtering app to help prevent people from posting things they might later wish they hadn't. "Instaregret", as it's been coined, could soon be erasing all your Instagram mistakes - you heard it here first!