How to connect with your team in a remote setting
21 Jun 2021
Nick Holcombe
The events of 2020 gave most of us cause to rethink the ways we work.
For Brightec, the office was a big part of agency life; breakfast together on a Monday and having lunch around the table playing board games, sharing cookies and laughing together. Without physical presence, we had to find new ways to support our colleagues.

Going Remote
Whilst this experience wasn't unique to Brightec, I realise that for some, lockdown will have been a period of increased loneliness and extended isolation. Many businesses may choose to remain fully remote, and for many others remote working will be more prevalent than previously, so even as we move towards a common use of office spaces my aim is to share some of what worked for us in the hope it will encourage and give ideas to others as they endeavour to support their own co-workers better as they navigate this journey to a new way of working.
Support & Wellbeing
There are many factors that influence an individual's wellbeing, their happiness and how supported they feel. There are three main areas in which Brightec supports and encourages one another.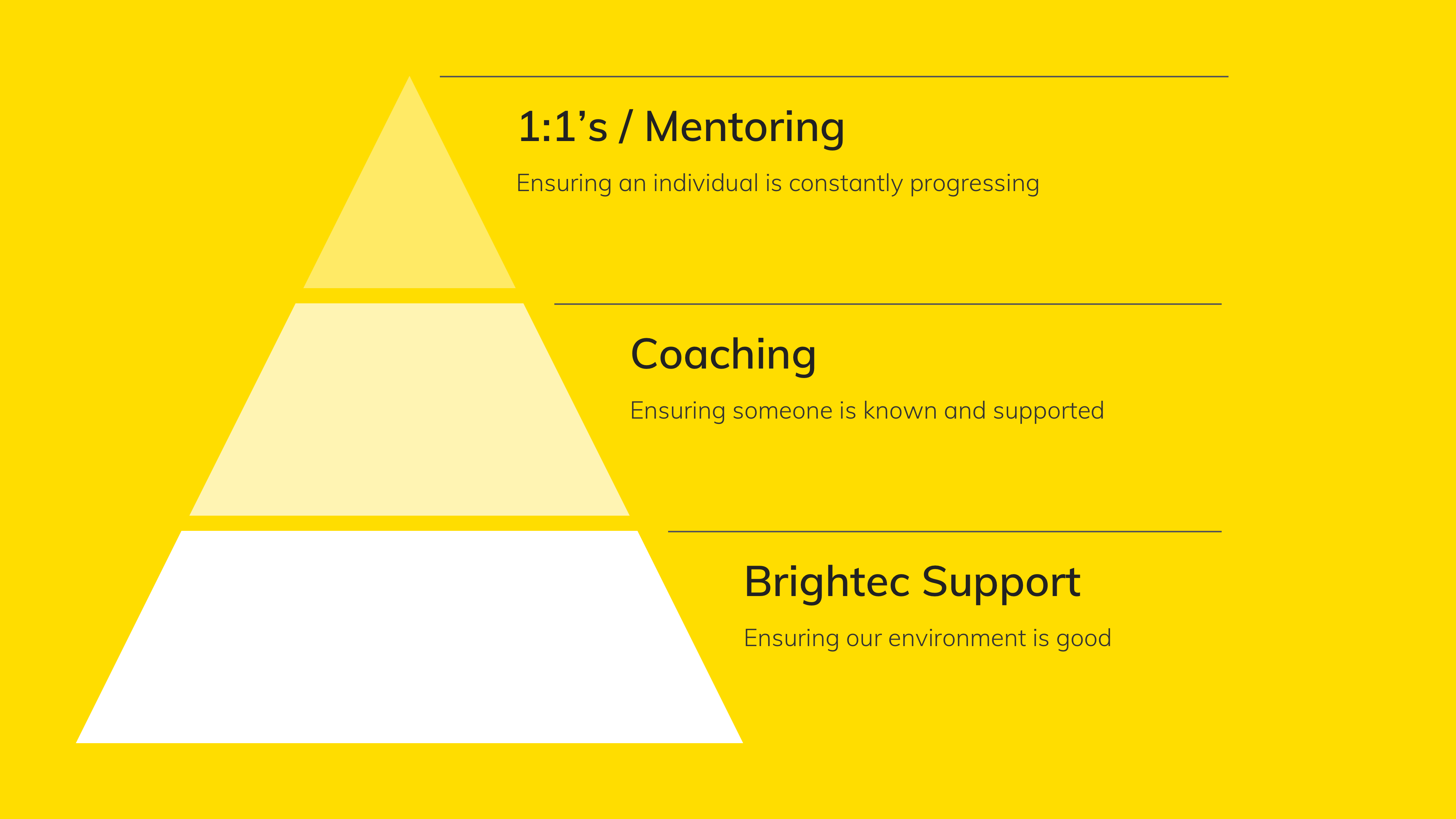 Primarily we aim to cultivate an environment which is good for people to work, develop and grow. There are plenty of articles written about this, including Josh's series on how to grow a Creative Team and our shared passion for seeing individuals and teams become the best version of themselves.
At Brightec we've long had the practice of pairing everyone up with a coach; someone we meet up with regularly to chat over how things are going. It is the primary way at Brightec that we ensure people are known on a more personal level and supported in their personal and professional development.
This is something that we started during lockdown, it's centred around professional growth, creating more space for Coaching to take on a more holistic approach to personal wellbeing.. Everyone in the team has a mentor, with whom they meet 1:1 with each week for 15minutes or so.

Working remotely doesn't have to feel remote
As I write this blog I am on an Open VC with Jotham and Jonny; listening to a Spotify session that Jotham has curated for us (Lo-Fi Chill Beats: Study & Heal since you asked) and I have been bouncing ideas off Andy & Josh in a shared Slack conversation. Even though I am working in a different location from each of them, in some ways, I probably feel more connected or able to communicate than when I was in the office.
Companies and teams naturally develop their own culture and cadence (whether intentionally or not) and some of our regular gathering times have transferred over into our remote diaries too. We have a daily stand-up where we can all connect and check what people are planning to work on during that day. Every Monday we have an extended version of this, to hear how each other's weekends were and share company news - we've even created a randomised, online bingo card where we can tick off the most popular / recurring weekend activities (DIY anyone?) and no, it isn't always snowing in Crowborough!
During lockdown, we started a Friday afternoon catch-up (originally on a virtual Desert Island) where we could review how the week had gone and check-in on each other. This has carried on beyond lockdown into our Friday Social; an online space to chat and play games like Gartic Phone, GeoGuesser or a round of skribbl. It is amazing how laughter can be such a stress reliever!
In addition to the formal, scheduled meetings, we also arrange various 'catch-ups', a virtual coffee or donut session where we stop working for 15 minutes and just chat with another colleague and see how they are getting on. It's a virtual representation of making a coffee in the office and having a chat along the way.
We can spend a fair chunk of our day hopping between Video calls, although we mainly communicate using Slack which is a great way of keeping in touch, organising our conversations around different projects and also allowing us to catch up later if we are away from the keyboard during a discussion
We have also started using Code with me, a collaborative development tool from Jetbrains that allows us to pair-program and share/write code together in real-time. It's a really great way to replicate the camaraderie of working together in the office and seeking advice or opinions from others in the team.

On becoming Obiwan Nickobi
Over the past 18 months we were fortunate enough to take on three new members of staff. Onboarding Georgia, Ellie and James remotely has been a great experience for all of us. Even in ordinary times, it takes awhile for people to settle into a new team and get to know everyone and how things work; but it must be even harder joining a team when everyone is working remotely. So firstly a massive shout-out to them for becoming a part of Brightec so quickly.
I've always had an interest in helping people; whether that's solving an IT problem or supporting them to learn something new. I was delighted to be asked if I'd mentor Ellie and early on, she coined the phrase Obiwan Nickobi. We meet once a week via video call to discuss how things are progressing (whether that's life in general or the health and escapades of her pets, Elmo and Fig) and more specifically, what are the next steps along the path to mastering software development.

The Next Steps?
During the first lock-down we bid a sad farewell to our old office before disappearing into our homes for an extended period on Zoom and Google Meet. As things started to open up, we took it in (socially distanced) turns to make use of our office annex (2 at a time) which was great for seeing someone face to face, and having a dedicated space to work outside of the home. .
Now we look forward to the return to an all-new experience, an in-person, collaborative space (also known as an office). We've rented a fantastic space from the folks at PLATF9RM which enables a step in the direction back to co-working. It's been great starting to reconnect with each other, in-person, again.
We don't know what the future of a Brightec office looks like just yet, but we do know that our team will continue to enjoy feeling, and staying, connected with each other.